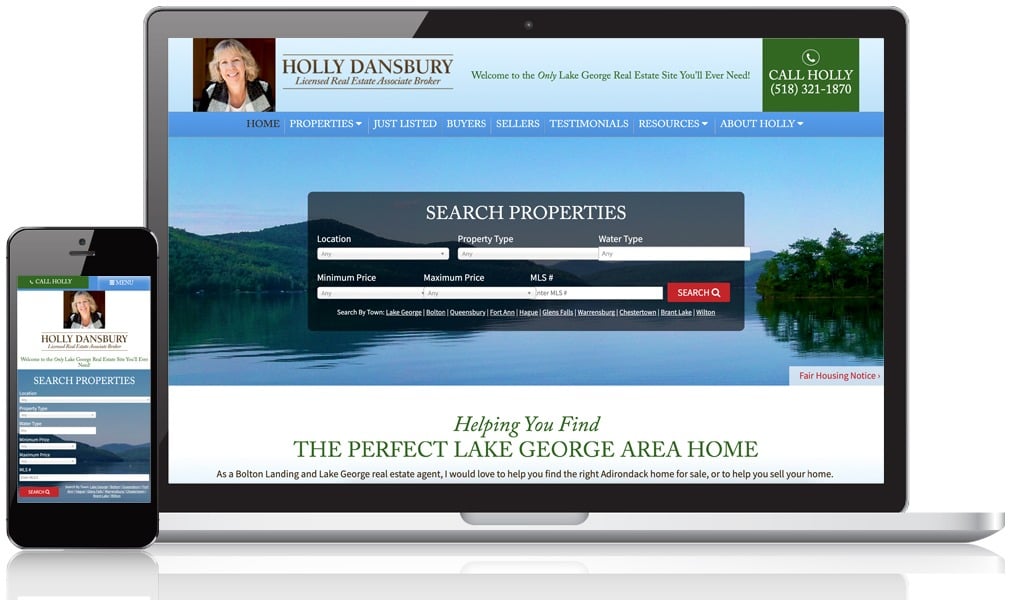 Website Redesign and SEO for Lake George Real Estate Agent Increases Business
Holly Dansbury is a real estate agent in Lake George, NY, whose remarkable approach to helping people buy and sell homes has made her one of the region's top real estate professionals.  The website redesign, coupled with an ongoing digital marketing program year-over-years shows a profound impact on website traffic, attracting more qualified visitors, and engagement with the site.
The Results
20% Increase in Overall Traffic
38% Increase in from Organic Search Traffic
50% Increase in Mobile Traffic
More prospective home buyers and sellers use their smartphone to find real estate agents in Lake George, Holly's website must provide a user-friendly experience across devices. Our website design and development team created a mobile-friendly responsive website with a modern design and lead generation elements that encourage home buyers and sellers to contact Holly for more information. An ongoing SEO program ensures that Holly's website remains a valuable resource for prospective clients and continues to show up in the search results for important keyword phrases.
Results
The website redesign, coupled with an ongoing digital marketing program, is helping Holly get found by more potential clients online. Year-over-year growth with the redesigned website and marketing program shows a profound impact on website traffic, attracting more qualified visitors, and engagement with the site:
Traffic increased by 20%
Traffic from Organic Search grew by 38%
Visits on mobile devices grew by over 50%
Website Bounce Rate decreased by 11%
Home Page Bounce Rate decreased by 47%