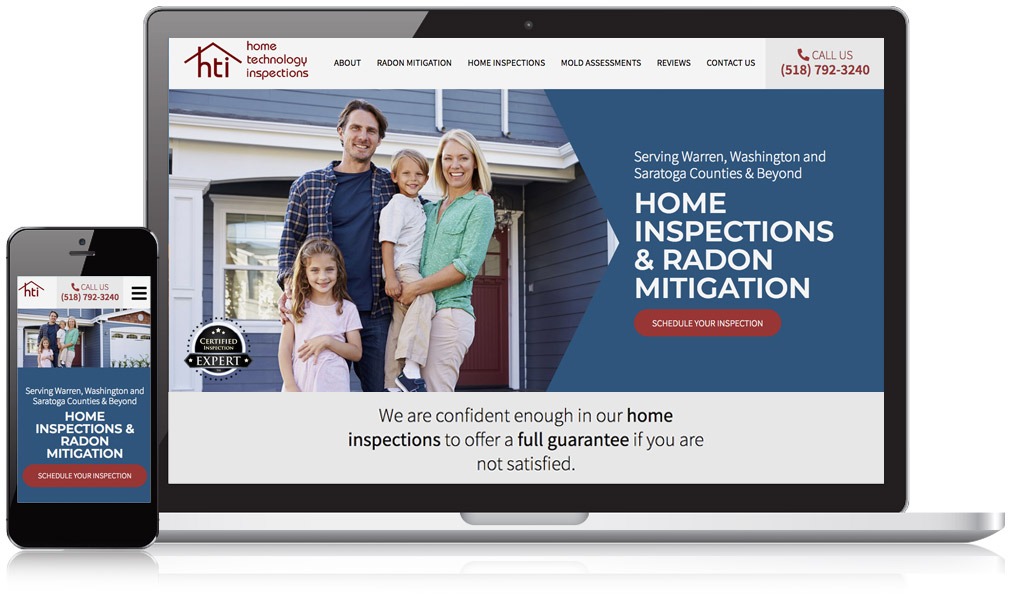 SEO Booster Program & New Web Design Aids In Strong User Experience Improvements
Home Technology Inspections came to Mannix Marketing for a redesign and a subsequent 4 month SEO Boost. The redesign was meant to update the website with a fresh new responsive design that was appealing and easy to use for customers. One goal that we were made aware of was that HTI had an interest in increasing his Reviews. We created a form where folks could submit reviews right on his website and that has been very successful.
The Results
41% increase in Pages per Session
159% increase in Session Duration
23% decrease in Bounce Rate
The SEO Boost program had very specific goals and was to focus solely on increasing the Radon Mitigation and Mold Assessment portions of his business. To do this, we came up with a content strategy that added additional information about these services. We brought existing content that was buried on the site into the forefront so it was accessible. We modified the navigation to include these new / existing pages and integrated them into the website with interlinking.
The Radon Mitigation (main page) has increased traffic by 25%.
The Radon FAQ page has increased traffic by 337%.
The HTI Google My Business account had some initial issues that required assistance from GMB support to straighten out. We worked closely with support to get this very important account up and running properly. He had two accounts that needed to be merged and reviews that were not showing up. The merge was successful and the reviews are now all showing up.
Facebook Ads was a must to continue to send relevant traffic to the new website. Thought HTI had a Facebook page, it wasn't bringing traffic to the website. With Facebook's advanced targeting, we were able to target exactly the areas HTI services and advertise radon mitigation services. Through a combination of interest targeting, custom audience targeting, and website retargeting, Facebook traffic took off. After just one month of Facebook Ads, Facebook traffic increased by 2,860%.