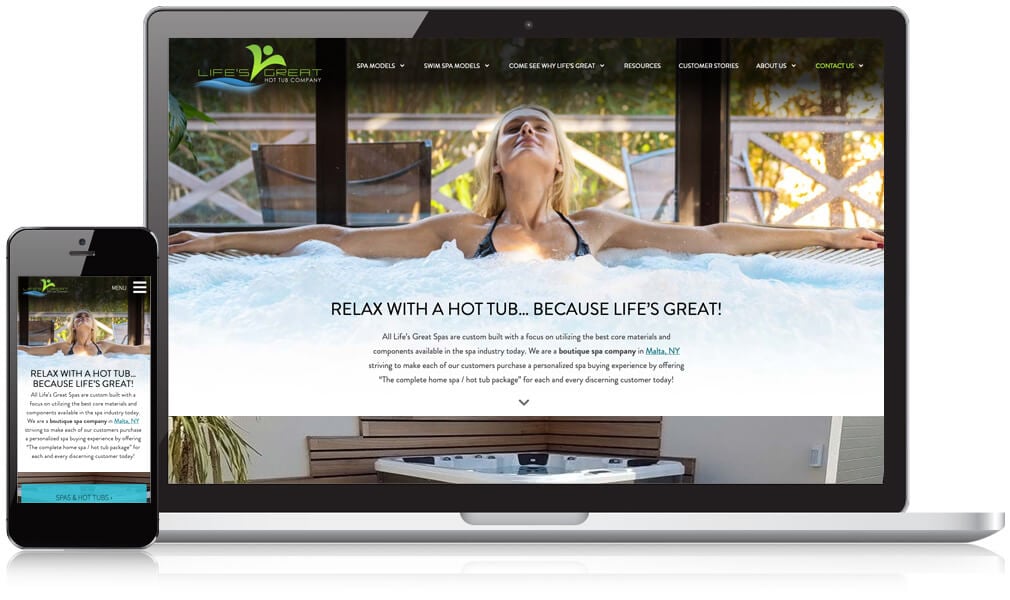 Website Redesign & Digital Marketing for Home Spa Company Leads to 39% More Traffic
Life's Great Spas is a boutique spa company located in Malta, NY. With 3 collections of hot tub products on their site, they wanted to showcase their beautiful and high-quality lines of at-home spas in a strong visual manner. The website redesign has allowed them to achieve their goal of striving to make it easy for a customer to have a personalized spa buying experience.  Life's Great also wanted to ensure they were getting found online – they enlisted Mannix to run their SEO and Paid Search marketing for more eyes on their new site makeover.
The Results
39%Increase in Overall Traffic
32%Lower Bounce Rate
89%Increase Paid Search Traffic
Making a Splash with a New Hot Tub Website Design
The website redesign focused on highlighting each of the different spa models so a potential buyer could compare the differences between the different types. Roll-overs of the different hot tub colors were added to make the buying experience easy to visualize for the consumer.
Each spa picture on the website is large and viewable on all screens, so a buyer could scroll on their laptop, phone, or tablet with ease. Each model has plenty of pertinent information like the number of water jets, lights, sound features, etc – all the details any hot tub buyer would want to know.
Life's Great Hot Tub Company worked with Mannix's digital marketing team to create a modern, clean, informational, and functional website that encourages interaction and also promotes potential buyers to go to their showroom. Strong calls-to-action for contacting Life's Great or visiting them were splashed throughout the website.
Ongoing PPC & SEO Services
After going live with their new website, Life's Great also enlisted Mannix to help with a multi-faceted digital marketing campaign, including ongoing monthly SEO services, that includes content marketing and conversion rate optimization, as well as Google PPC marketing services. Reviewing the first 3 months of the new website launch, and the same time period the following year, site traffic and leads have soared! Overall site traffic is up over 39% as lead submissions on the website continue to go up.
But it didn't take long for the new conversions to come in. The website saw an immediate increase in leads. Within the first month of launch, contact form submissions increased by over 33%!