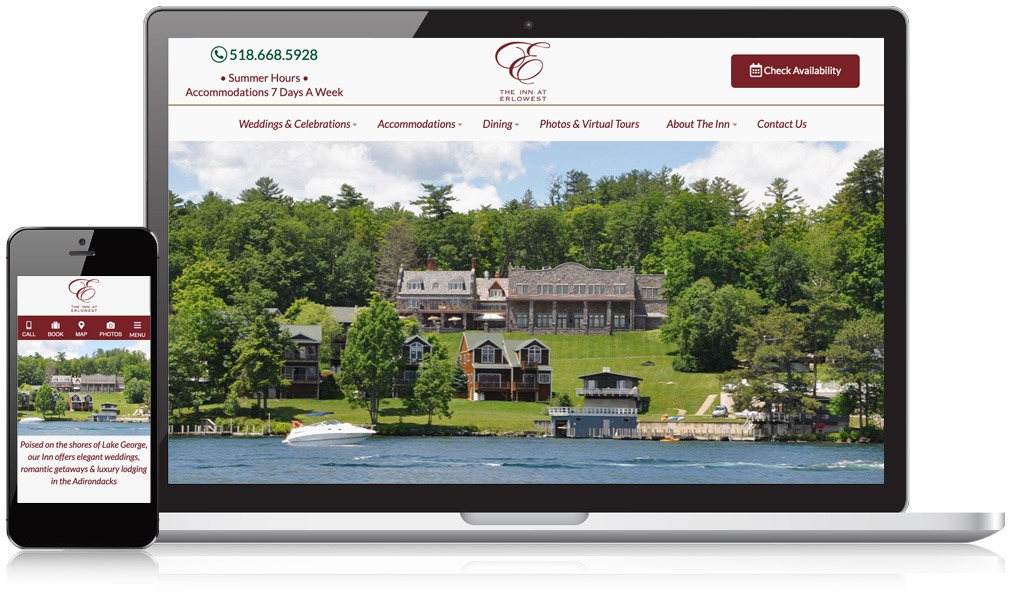 New Website for a Luxury Inn & Wedding Venue Gains 65% More Traffic
Poised on the shores of Lake George sits a posh Queen Anne mansion dating back to 1898. Today it is known as the Inn at Erlowest and serves as an elegant wedding venue and luxury lodging in the Adirondacks. Just because this magnificent stone castle is from the turn of the century, doesn't mean its website needs to be.
The Inn at Erlowest came to Mannix with the goal of updating their outdated site to encourage more bookings. Their existing website lacked SEO optimization, proper website ADA accessibility, and did not pass site speed tests, rating an "F" on GTMetrix with a 6.6 second site load time.
The Results
30%Decrease in Bounce Rate
65%More Traffic
75%Decrease in Load Speed
The Inn's new website was launched in spring before the summer season and quickly saw a 65% increase in site traffic.
Site speeds improved dramatically as well. The new site scored an "A" rating on GTMetrix with a short 1.7 second load speed time, faster than what Google recommends! This improvement decreased the Inn's website bounce rate by 30% and increased average session duration by 25%. Instead of spending more time waiting for the site to load, then exiting out of frustration without visiting any other pages, users now are finding what they're looking for faster, visiting even more pages in less time than before. Total page views increased by 59% and pages viewed per session increased by 8% with pages for accommodations, dining, wedding details, photography and the contact leaping to the top of the most visited.