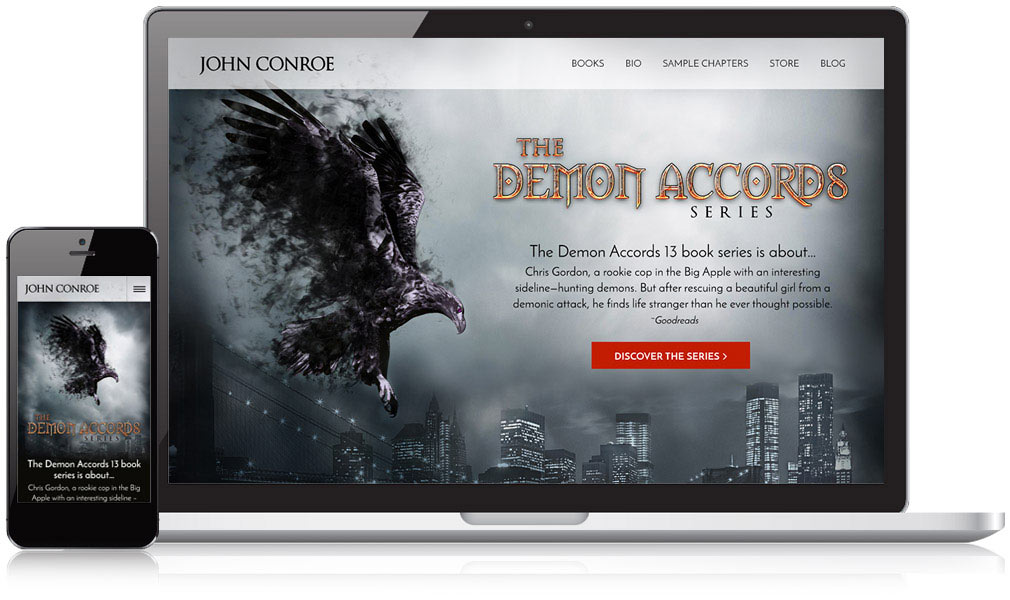 Bestselling Author's New Website Redesign Increases Traffic by Over 200%
John Conroe needed a modern website that reflected his growing position as an Amazon.com best-selling author. The new design features bold images that artfully display the cover of his books, exclusive content for fans, and plenty of opportunities for fans to interact with him and each other. The enhanced layout and navigation bar easily allows website visitors to view Conroe's portfolio and the many retail outlets his books are sold. A email newsletter subscribe button entices fans to keep up with the author's progress on building his fantastic universe.
The Results
237% increase in traffic to website
130% more time spent on site
29% lower bounce rate
Keep Visitors On The Page
Conroe's website was designed with the marketing goal to keep fans engaged and on the page. The new design features three prominent call-to-action buttons: "Discover the Series," "See John's Books," and "Read Free Chapter Here." These buttons strategically keep website traffic on the page and help convert visitors into book-buying fans.
Get Found On The Web
Designed with search engine optimization in mind, John Conroe's updated website was developed to help get found in search engines when readers searched for keyword phrases related to him and his books. Since the website went live, Conroe has seen a significant increase in website traffic from organic search results and a lower bounce rate as a result.
Engage Your Audience
Our website design includes separate webpages so John Conroe could increase his website content and provide exclusive extras for fans of his novels. A blog, forum, and never-before-seen additional stories page create one-of-a-kind opportunities for his fans to delve greater into his fantastical worlds, creating happier and satisfied customers.
Since the website went live, John Conroe has seen an increase in traffic by 237%. Need to drive traffic to your website?