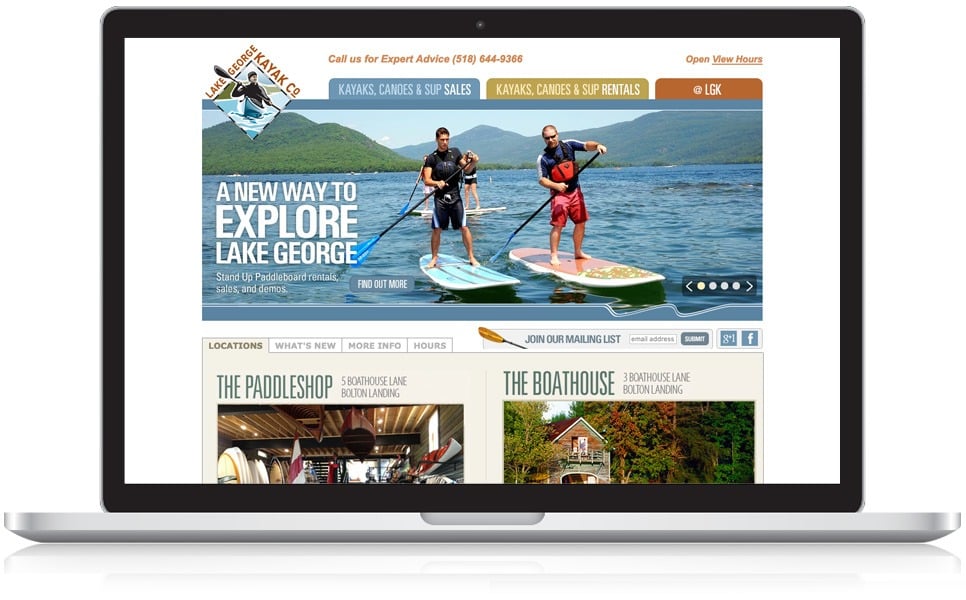 Results of Search Engine Optimization Plan
Lake George Kayak is a well-established business in the Lake George NY region, offering quality canoes, kayaks, stand up paddling boards, gear, demos and lessons. Clientele includes both beginning and experienced paddlers, as well as corporate groups seeking guided tours and events in the Adirondack region.
The Results
221% Increase in Top 10 Search Engine Placements
150% Increase in Top 20 Search Engine Placements
#1  for SUP Lake George and  stand up paddle board rentals ny
Update to the site focused on both the long-established business for canoes and kayaks, and a particular focus on the emerging SUP padding market, both for equipment, gear and instructions for both adult and youth paddlers.
Results of Search Engine Optimization Plan
Search Engine Placements: Increased number of top-10 search engine positions 221% in the 2-month period, top-20 positions increased more than 150%!
Realized a #1 presence for many important industry keywords, such as 'recreational kayaks upstate ny', 'SUP paddling capital region' and 'stand up paddling instruction upstate ny'