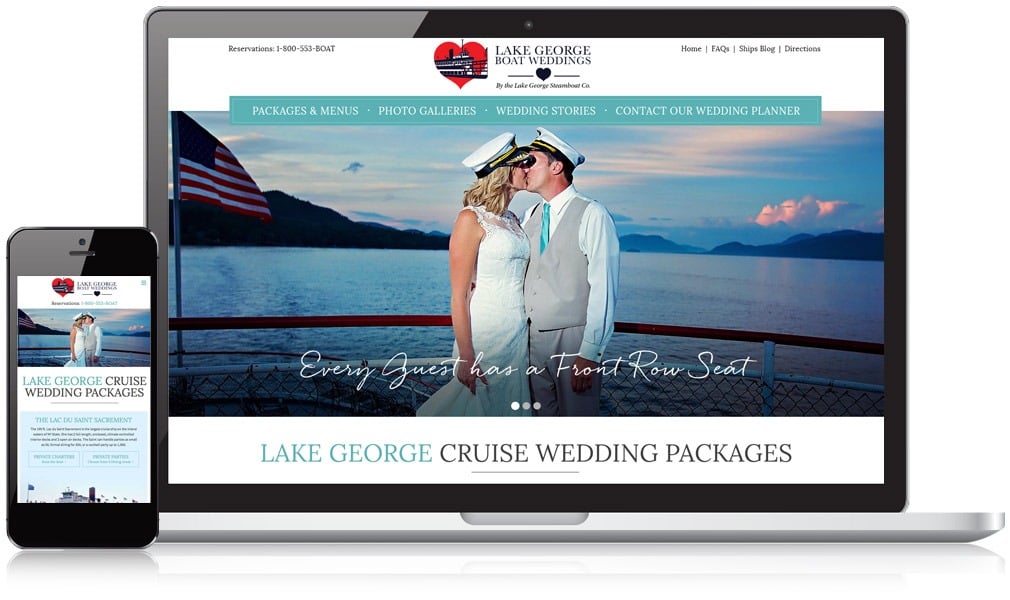 Wedding Experience Company Gets New Website
Lake George Boat Weddings offers the ultimate wedding packages aboard their beautiful cruise ships. To help market their offers, we created a brand new, SEO friendly attractions website designed to help couples easily discover and book a unique wedding package for their special day on Lake George.
An elegant photo of the boat wedding experience greets visitors as they land on the website's home page.
Custom SEO Friendly Website for Lake George Boat Weddings
Visitors can explore the various wedding packages, including the details of the private charter packages as well as dining options for the private party cruises. Large photo galleries make it easy for couples to get a glimpse of the two ships as they scroll through interior and exterior photos of the Lac du Saint Sacrement and the Mohican.
Created with mobile-friendly responsive design, the Lake George Boat Weddings website is easy to use on desktops, tablets, and smartphones. In addition to being user-friendly across devices, the website improves the SEO for this attractions business since search engines reward mobile-friendly responsive websites with better rankings in the search results.
Of course, visitors can quickly and easily get in touch with the wedding planner as the company's contact information and calls-to-action are prominently displayed throughout the website.
Testimonials are featured as "Wedding Stories," so that prospective guests can learn about the magical experiences of couples who chose Lake George Boat Weddings for their special day.