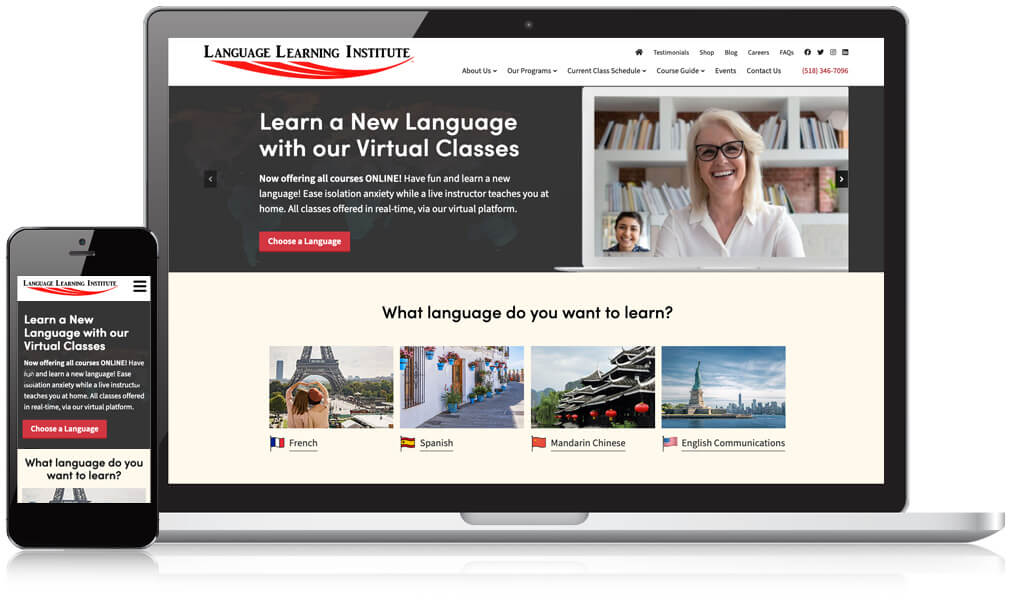 Language Learning Website Redesign Elevates User Experience
When Nancy Scarseletta, owner of the Language Learning Institute, decided it was time for a website redesign, she turned to Mannix Marketing for help saying au revoir, adios, zàijiàn (that's Mandarin!), and goodbye to their old, underperforming site.
Mannix rebuilt the site from the ground up to improve its functionality and also bring it into ADA compliance. The modern, responsive design also created a more professional look that reflected the image the Institute wanted to convey to potential clients.
The calendar of events and class pages were transformed from a narrow, information-overloaded layout to a smarter, user-friendly composition. Mannix crafted a website architecture plan that featured the Language Learning Institute's programs, schedules, and events in a much more logical way. The new design also made it a breeze for visitors to register for classes.
Because regular updates of course offerings and events are a priority, Mannix also tailored the content management system so staff could easily manage the website without having to call a web developer.
By working with Mannix, the Language Learning Institute's website design now translates into better functionality and an improved user experience. We're confident that better performance in web analytics and client engagement are right around the corner.