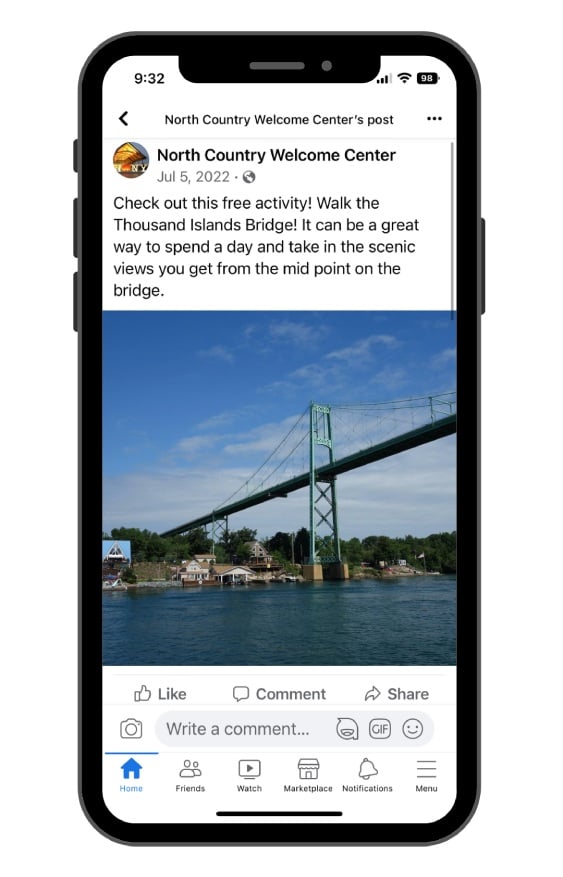 How One Facebook and Waze Campaign Turned a Lesser-Known Welcome Center Into a Buzzworthy Destination
Let us introduce you to the North Country Welcome Center in Alexandria Bay, NY – a destination that's more than just an information hub!
Visitors can experience the one-of-a-kind Taste NY Market with local snacks and meals, play with interactive kiosks to discover what the region has to offer, and even take selfie shots in front of their famous "I Love NY" sculpture.
In 2021, the North Country Welcome Center came to Mannix Marketing with a problem they were hoping to fix – they wanted to increase the number of people visiting their location. The Mannix Tourism team got right to work developing strategic Facebook and Waze campaigns aimed at increasing awareness and visits from tourists and locals alike.
The Results
1,500%Increase in Facebook Likes
106.5%Increase in Page Reach
331.1%Increase in Page Visits
By promoting the North Country Welcome Center along with other regional tourism attractions and destinations, we were able to significantly increase the Center's Facebook page traffic.
We're thrilled to report that in just four months, our Facebook campaign for the client exceeded expectations. With an average growth rate of 1,500%, the North Country Welcome Center Facebook page went from 1,876 likes in May 2022 to 3,354 likes when the campaign ended on August 31st, 2022.
The Tourism team also put together an engaging Waze ad campaign to increase in-person traffic. When drivers were within 10 miles of the Center and using the Waze app, a notification would pop up, prompting the user to check them out during their trip. Thanks to our efforts, 451 people clicked on these ads, with 108 of them converting into navigation requests.
The success of this project resulted in an ongoing relationship between our Tourism team and the North Country Welcome Center, and we have continued to take their brand recognition to new heights!
Mannix Marketing helped us grow our Facebook page by doubling the number of followers we had over a four month period. It has really helped our business reach new markets and bring in additional business opportunities.
Michael | North Country Welcome Center