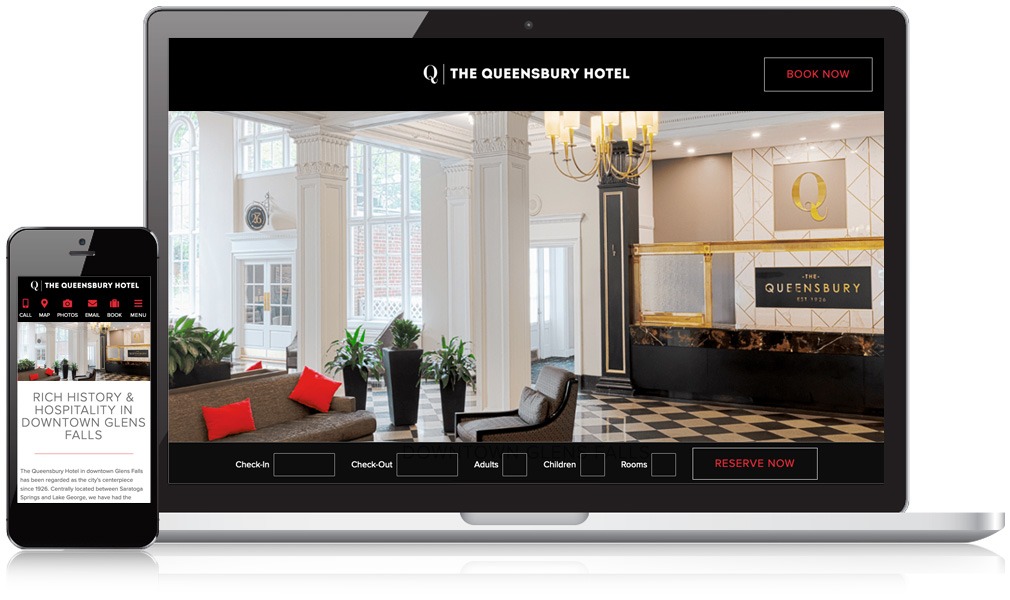 73% Increase in Calls After Historic Hotels Modern Website Redesign
The Queensbury Hotel in downtown Glens Falls has served as a city centerpiece since 1926. Though the hotel is historic, they came to Mannix Marketing for a modern-day website. A full redesign was required to make the website meet reasonable accessibility standards and improve load speed times overall.
The Results
3XFaster Load Speed
14%Lower Bounce Rate
73%Increase in Calls
To achieve this, Mannix recoded the site from scratch to remove traces of the old, non-compliant platform builder, addressed over a hundred photos that lacked alt text, and build mobile-friendly landing pages for PDFs like menu pages, wedding and events brochures, weddings menus, and packages, banquet, and catering and off-premise catering menus.
The results were phenomenal! Before the redesign, the website received a D rating for load time, at 7.2 seconds. The new site was over 3X faster at 2.2 seconds, receiving an A rating. Overall bounce rate decreased by 14% and pages viewed per session increased by 12%.
The hotel also saw a huge increase in goal completions for emails, contact form fills, proposal form fills, and calls increased by 73%!
Looking for an accessibility update? Contact us today!
Having worked with Sara Mannix and her team in various capacities for many years, I knew we would not be disappointed. The quality of the work and the expertise of the staff made this an easy process and continues on that path as we grow our online presence. Mannix Marketing has been, and always will be THE place to go for hospitality professionals looking to "up their game"
Eric Rottingen, Director of Sales & Marketing | The Queensbury Hotel