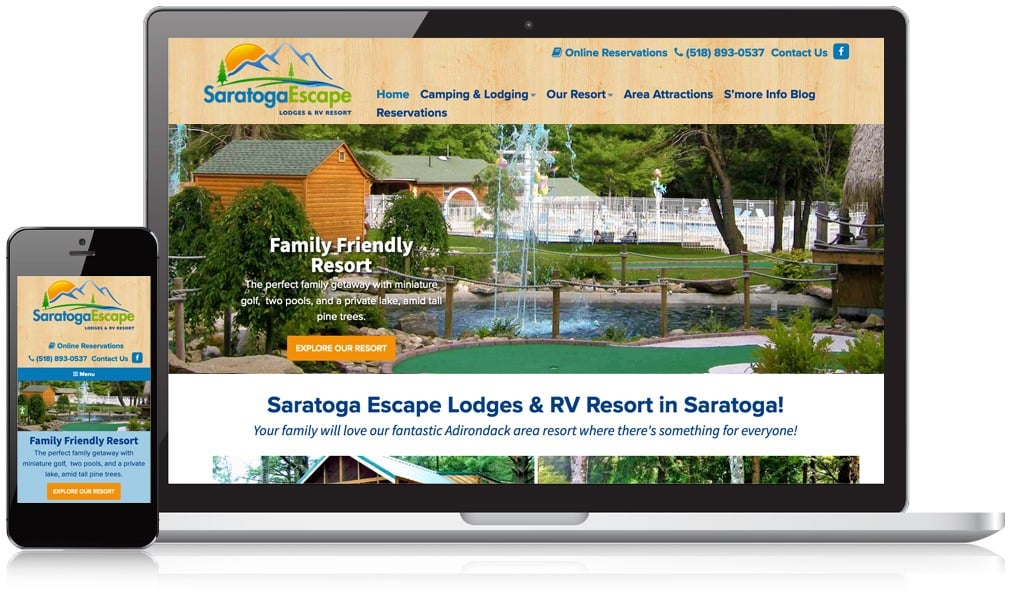 Local Resort Gets New, Modern Website Design As Part Of Rebranding Efforts
The Saratoga Escape Lodges and RV Resort offers a wide range of fun and exciting amenities at their beautiful resort in the Adirondacks. As part of a major rebranding initiative, Saratoga Escape needed a fresh look for the website, updated messaging, and a user-friendly experience for mobile users. When they approached Mannix Marketing for help, we rolled up our sleeves to create a modern, engaging, user-friendly website that appeals to the Saratoga Escape's target audience and conveys the one-of-a-kind camping experience at the resort.
Adirondack Resort Website with a Fun and Modern Flare
As a family friendly RV resort, it's critical that the Saratoga Escape website cater to both parents and kids. From the user-friendly navigation menu to the vibrant colors to the photos of campers and activities, travelers can find the information that's most relevant to their needs.
To help potential guests discover all that this Adirondack resort has to offer, we incorporated highly visual calls-to-action throughout the new website.
Today, travelers can quickly and easily interact with the resort's new responsive website from any device. In turn, this makes the vacation planning process a breeze for desktop and mobile users alike, while helping campers move closer to their next get-away.
Easily-Updatable Website Keeps Travelers Up-to-Date
By developing the new website on a user-friendly website management platform, the team at Saratoga Escape can easily update the content on the new site- from changing their rates to adding new photos of the resort to posting articles on the S'More Info Blog.
Keeping the website up-to-date with the latest and greatest information about the resort ensures potential guests are greeted with the most current information as they plan their stay in the Adirondacks.