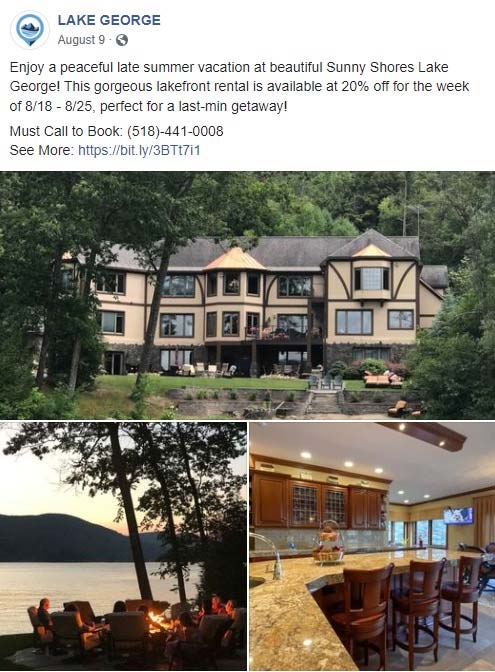 One Facebook Post Receives Over 100,000 Impressions Through Marketing Efforts By Mannix Tourism
Nestled on the shores of Lake George in upstate New York, Sunny Shores is a luxury vacation rental with a distinctive personality. Whether it's the stunning views of the lake, the charming small town community, or the friendly hospitality of the neighbors around, Sunny Shores on Lake George is a place where memories are made.
By utilizing Mannix Marketing's social media expertise and large Facebook platform, Sunny Shores was able to increase their website views and sales. 
Dave came to us with the goal of connecting with prospective vacationers for his rental property in Lake George, New York, as he had multiple weeks he needed to fill. With the world starting to come alive again after COVID-19, he knew that many people would be itching to get out and get away from home.
With COVID's impact on revenue fresh in his mind, he decided a conservative approach was best, testing just one Facebook promotion to the LakeGeorge.com audience. 
The Results
101,949 Impressions
78,820 Reach
1,382 Link Clicks
The Lake George Facebook page has a high amount of traffic, which is why he chose to promote his available weeks there, versus his own Facebook page. By utilizing the large audience that Lake George's Facebook page has, as well as incentivizing potential customers with a 20% off deal, there was an extremely high interaction rate on the post. 
The Mannix Marketing editorial team worked with Dave to get photos that were visually appealing. Having high-quality, multiple images for viewers to click through increased the engagement, and therefore increased the amount of times that the post showed up in Facebook user's feeds.
We know that our Lake George audience appreciates a clear call to action, which is why we decided to put a link in the description which went directly to the Sunny Shores on Lake George booking site. This link, along with the perfectly crafted caption, captivating photos and a deal that was hard to resist, drove a significantly high amount of traffic to the Sunny Shores website, which in turn, filled his open weeks.
Mannix has proven over the years that if you want to reach the public relative to Lake George, LakeGeorge.com is the best vehicle to achieve that. We have had excellent success with them and strongly recommend them.
Dave | Sunny Shores on Lake George