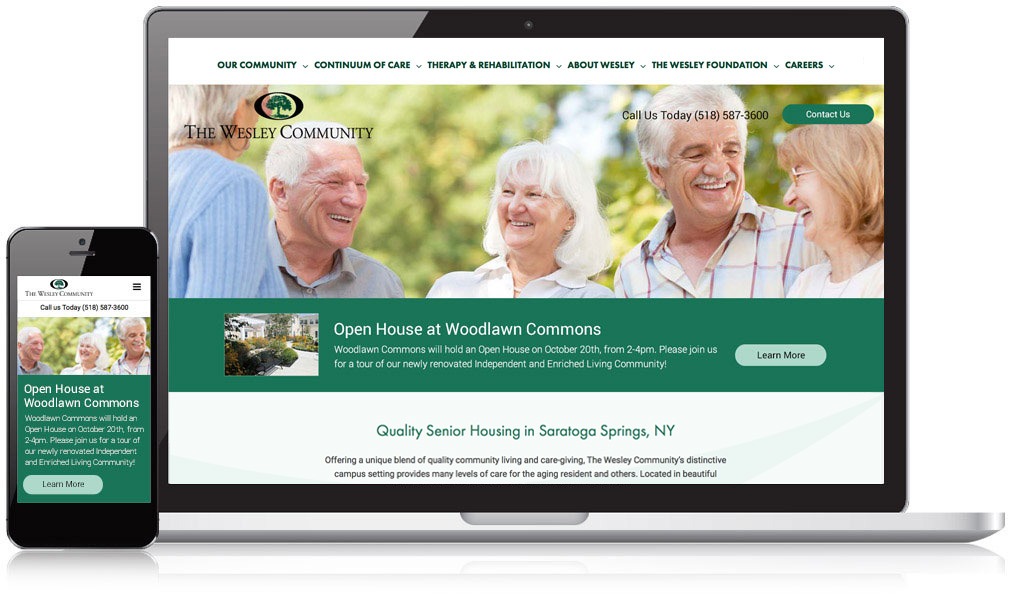 33% increase in website traffic
122% increase in contact form fills
150% increase in tour requests
SEO Optimization Program Increases Local Traffic by 23%
The original traffic to the website was less than ideal and not converting. A large portion of the traffic was from visitors outside their target market. In an ongoing SEO program, we targeted proper keywords, reworked the website navigation and page content, implemented a content marketing program, and focused on local SEO efforts in order to replace underperforming traffic with relevant traffic. The result was a 23% increase in local website traffic and a 93% increase in leads from organic traffic.
Local Pay Per Click Advertising Drives More Traffic & Leads
Upon launching the new website, Mannix created a new pay per click program for the Wesley Community, featuring campaigns broken out by their senior living options, customized landing pages, and tracking for all engagement and conversions. It also allowed us to better target audiences based on services and easily shift budgets between options based on occupancy.  Over time we also built a Branded Campaign, a Display Ad Remarketing Campaign, and a Video Ad Remarketing Campaign. With the remarketing campaigns, we were able to deliver specific messages to people who had previously visited The Wesley Community website. Despite a small ppc budget, Wesley's campaigns have had a big impact. Making up just 4% of overall traffic, paid search traffic accounts for 8% of all conversions.
Are You Ready to Increase Your Leads?
As a result of the robust senior living digital marketing program, The Wesley Community was able to leverage its new website and drive more qualified leads and increase occupancy. If your senior living facility is struggling with occupancy, we can help!  Contact our senior living marketing specialists today for a free consultation!
Partner with Us Today and See Your Business Thrive Online
Ready to get started or want to learn more about how we work with clients? Let's get it scheduled.