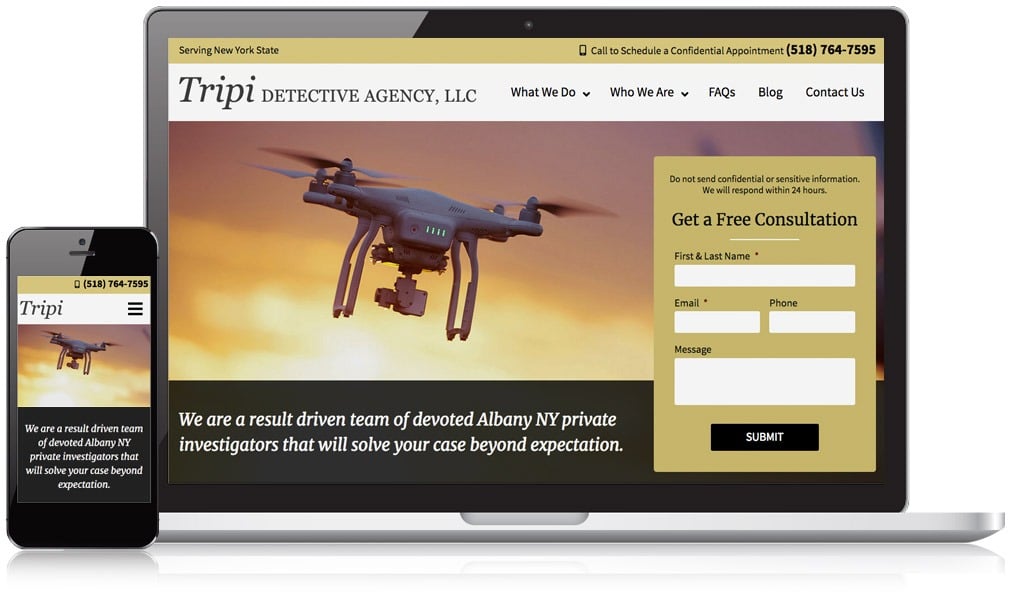 Private Investigator Website Redesign, NAPS & SEO Booster Program Increases Search Engine Visibility by 49%
Tripi Detective Agency is a NYS private investigation company serving law firms, insurance companies, business owners, and the general public. After a website redesign, NAPS program, and our search engine optimization booster program, search engine visibility increased by 49%!
The Results
49% increase in search engine visibility
92% increase in website traffic
135% increase in page views
Tripi Detective Agency's old website was lacking content and failed to get them found in search engines locally. They needed a website that clearly defined their target market and services and that helped them rank locally for private investigator keywords.
Website Redesign
In the new website design, the detective agency's drone services was used as a focal point on the home page to represent the new technologies the agency is using for their investigation services, such as drone surveillance. Separate "who we serve" pages were created to highlight services pertaining to the audiences they were looking to attract, with prominent contact form placement to fuel conversions.
Tripi Detective Agency's new website is much more expansive than the previous version. Just 30 days after the website launch, we saw 73% more users, 92% more traffic, 26% lower bounce rate, time on site up 89%, 135% more page views and 22% more pages per session.
SEO Booster Program
Tripi Detective Agency signed up for our SEO Booster Program to build the foundation to start seeing positive keyword placements in search results. During the program, we worked on optimizing site metadata and content for Local SEO, including adding Areas Served pages, adding individual services pages, in addition to optimizing and posting regularly on their Google My Business Listing so they could show up in search results across the Capital Region. After 6 months, we saw a 49% increase in Tripi Detective Agency's search engine visibility for their keywords.