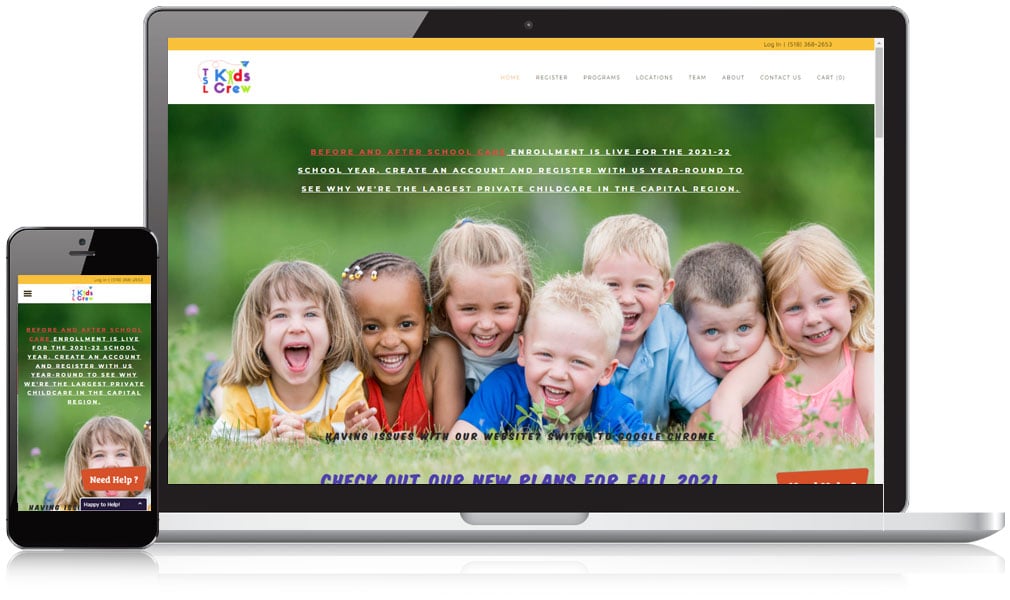 SEO Program For Child Care Program Boosts Website Traffic By 54%
TSL Kids Crew is a child care program that offers daycare, before and after school programs and Summer camps to families throughout the Albany, NY region. By beginning with an SEO Boost program and rolling that over into a monthly SEO program, they saw their overall website traffic increase by 54%!
The Results
54% increase in unique visits
62% increase in pageviews
"[TSL] did very well this year. Inquiries, phone calls, emails – they're all up. I can't even keep up. LOL. It's what I like to see." – Thomas Styles, TSL Kids Crew
TSL Kids Crew has a website that wasn't well optimized or organized, including a large library of blog posts with no optimization at all. This meant that website visitors had a hard time finding information about the child care locations near their homes, and search engines didn't think much of their collection of over 100 blog articles. To increase traffic to the website without a redesign we recommended an SEO Boost followed by a monthly SEO Program.
SEO Boost Leads To Increased Web Traffic
At the beginning of the SEO Boost a new site architecture was implemented so visitors could more easily find information about the facility they are most interested in. Basic SEO was applied to the main pages of the website, including the programs pages and the new location pages. Along with a thorough technical SEO audit, the groundwork was built for TSL Kids Crew to have more success through their website moving forward.
With the move to a monthly SEO Program, the focus shifted to the large collection of informational blog articles. To this point they had not been optimized at all, and were developed in a way that minimized their strength. Over a few months some basic SEO was added to each post and the section overall, and a plan is in place to get even more out of the hard work put in by various authors.