Today I'd like to talk to you about managing multiple Twitter accounts. Do you own a small business that you want to promote in the social media Twittersphere, but also have your own personal Twitter account where you talk about your aside-from-work hobbies, news stories, etc? Many of us run into this issue where we end up updating one all the time (because we are logged in) while the other gets a little stagnant.
Well, if this is a problem of yours, then your life is about to get a little easier! I recommend HootSuite for those managing multiple twitter accounts. It's what I, personally, use now for managing my own personal Twitter account as well as all of our Mannix Marketing Twitter accounts for Saratoga, Lake George, Albany, the Adirondacks, etc. (I switched from Tweetlater after just one day of using Hootsuite!)
HootSuite has been more than a timesaver; it has been a lifesaver for me! It's a fun, cute design, and it makes things incredibly easy….
– Hootsuite Screenshot –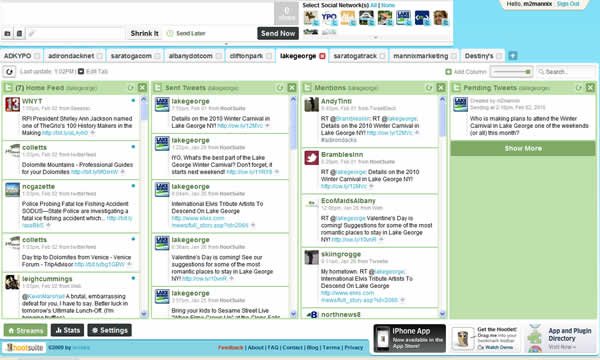 Simply set yourself up with one username in Hootsuite, and you can add in all your Twitter profiles, and then update them all right from one place – without having to sign in and out, etc. You simply click on the profile icon (upper right) that you want to update, and then type your status in the box at the top. It is SO easy!
You can even schedule tweets in advance. You just click Send Later instead of Send Now and then choose the exact date and time you would like to send.
Hootsuite also lets you shrink links down into a special format, which allows for link tracking (as well as more room in your tweet). It will keep track of how many people clicked on that link so you can test the effectiveness of different messages. It will also tell you where those clicks are coming from. So, for example, if you have your twitter feed feeding into your Facebook page, you can easily tell if you generated more clicks from your Tweet or your Facebook post. It's really helpful.
What I really love is that it lets you pull in your friends feed for all the people you follow. This is what makes Hootsuite unlike many other platforms where you are just a one-sided broadcast for yourself and not connected to the rest of the Twitterverse. With Hootsuite, you stay connected!
You can even customize your columns to show exactly what you would like, where you would like it. So if you don't care about having your pending messages there, but maybe you would rather have a private messages column, you can do that. Or if you would like to have your Sent Tweets column first and your Home Feed second, you can do that too. It's completely customizable.
Best of all, Hootsuite is free to use! You can do all this and not pay a dime. It's really great, and I recommend you give it a try!
Find more information about Social Media Do's and Don'ts…
Not sure how to get started on Twitter? Give us a call! We'd be happy to help you out! Mannix Marketing 518-743-9424