So you captured this awesome photo with your mobile device (iPhone, Droid, etc)… and you want to post it to your Facebook page for all your fans to see.
How do you get it from your iPhone to Facebook?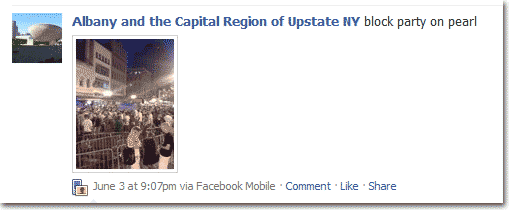 There is a quick and easy way to do this! Did you know your Facebook Page's wall has its own email address? It's true! Whatever you send to this email address will automatically be posted to your wall.
Wondering where your page's email address is located? To find your Facebook Page's email address, go to the page and click on "Edit Page" – right below the profile pic. On the edit page, the third box down is "Mobile." Click on "Edit" and it will show you the email to use.
Remember, whatever is e-mailed to this email address will automatically be posted to your Facebook Page's wall, so DON'T SHARE IT WITH ANYONE unless you really trust them, ie. other admins for your page. (side note: if it accidentally gets into the wrong hands, you can generate a new email address to use by clicking the "refresh your upload email" link.)
So, again — back to the photo. Choose the 'email photo' option on your iPhone or mobile device, and send it to your Facebook Page's wall email address… and voila! To put a caption for your photo (or video), place the caption in the subject of the email.
We recommend you save this email address in your phone's address book for easy posting. And now that you know how to post photos from mobile to Facebook, give it a try and let us know how it works for you!