Are you looking for new ways to market your hotel, resort, or small mom and pop lodge? Need help getting those phones ringin' and doors swingin'? Consider marketing on Pinterest! It's an extremely powerful marketing tool, especially for those in the hospitality industry.
For those of you who aren't familiar, Pinterest is a popular social media site where users collect and share photos they like from around the web. Basically, it's a huge digital tack-board of things people love! Since many users are highly focused on travel and a fashionable lifestyle, it's the perfect place for resorts, boutique hotels and destination properties to market themselves.
One hotel that's really rockin' it is Four Seasons in Ko Samui, Thailand. Here is a snapshot of their page: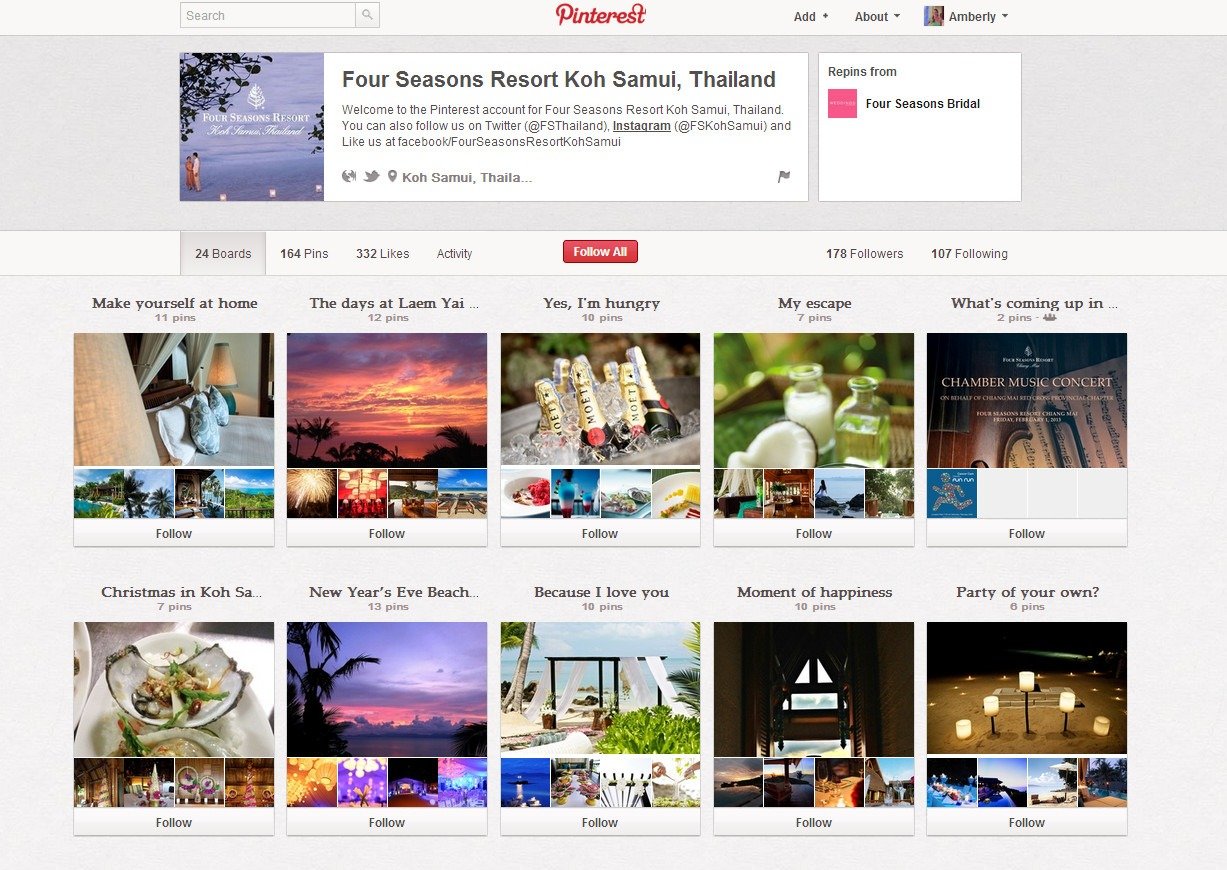 "I run a small family bed and breakfast. How can I use Pinterest to get more business?"
Lots of ways! Here are a few ideas:
1. Show off your area: Are you a hotel in Lake George? Don't just show 159 pictures of your rooms. Show off the area around your hotel. The mountains, downtown, everything that makes your area unique that would make tourists want to visit.
2. Show off your Food & Beverages:  Pin photos of signature dishes and drinks from your restaurant, recipes, chef profiles, pictures of your dining room, wine recommendations, deserts, etc. Make them drool.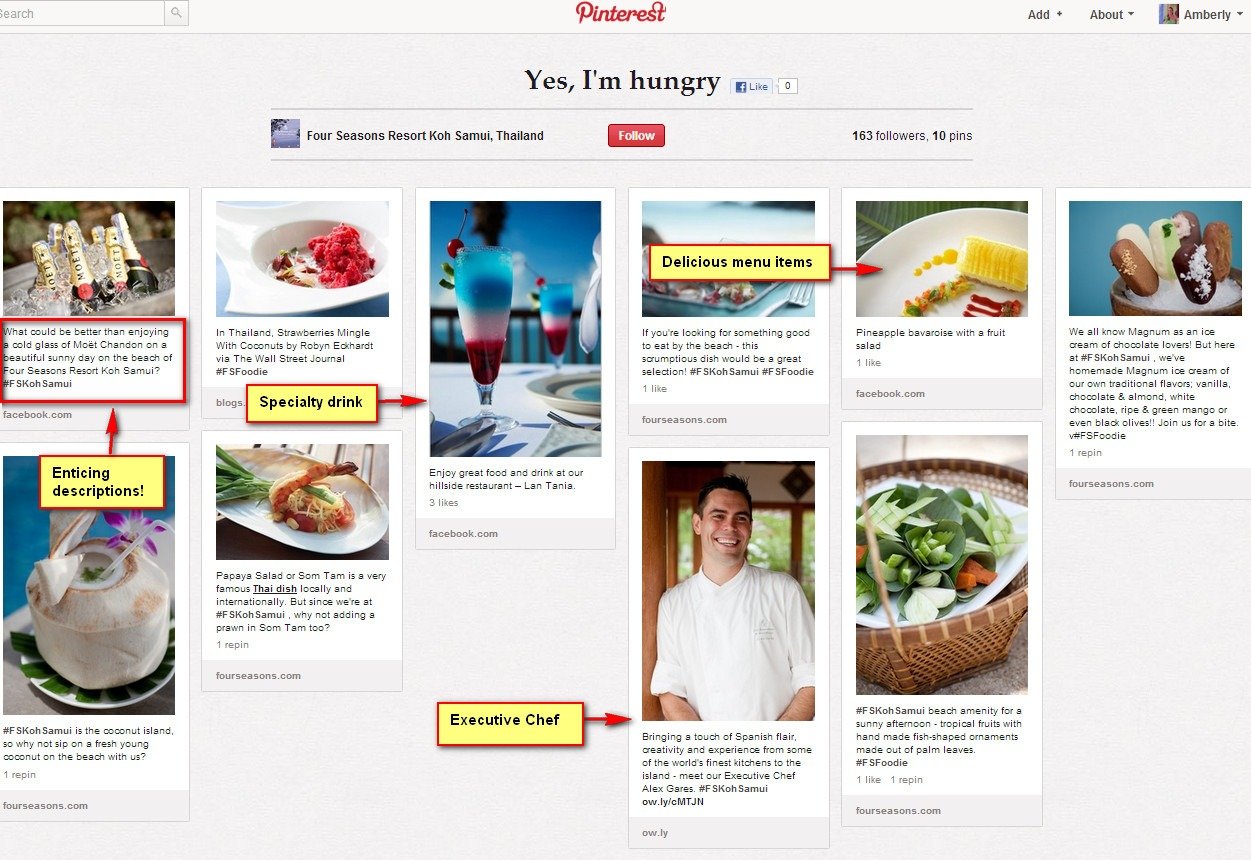 3. Special Events and Weddings: Do you host weddings or special events at your hotel? Show off that beautiful venue of yours! (*And remember to add a link directly to your events booking or contact us page.)
4. Act as Their Personal Concierge: Include must see places and activities in your area. (Restaurants, museums, entertainment, activities you love, etc.) Get your guests excited about all the activities they will enjoy when they stay with you.
5. Float Your Own Boat: Have you won any awards recently? Let people know!
Still not sure what to post? Here's a helpful checklist you can use:
30 Creative Pinterest Ideas For Hotels (Click here to print this list: The Ultimate Pinterest Checklist for Hotels & Resorts) 
1. Wedding pictures at your event hall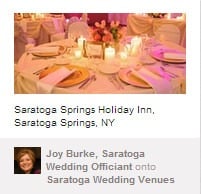 2. View from hotel window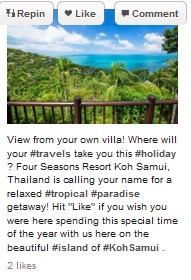 3. Picture of your plush king size bed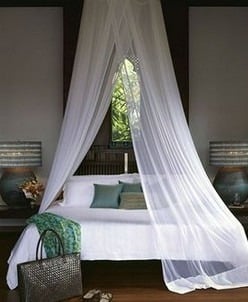 4. Services you offer at your spa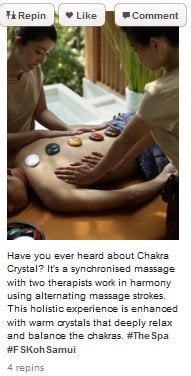 5. Brochures – With a link to where it can be downloaded immediately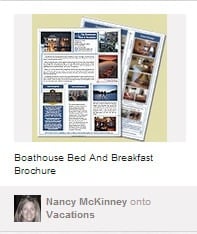 6. Events happening in your area
7. Your hotel decorated for the holidays
8. 10% off one night stay coupon
9.  Picture of a cozy robe awaiting your guests
10. Shots of downtown
11. Executive Chef
12. Chocolates on the pillow (Or any "special touches" you may provide.)
13. Must bring travel gadgets (Snorkels, beach towels, etc.)
14. Vine videos
15. Pictures of your guests enjoying themselves**!
16. Honeymoon ideas
17. Dream wedding ideas
18. Picture of your lobby
19. Favorite restaurants nearby your hotel
20. Amenities (Gym, pool, etc. )
21. Links to old blog posts
22. Signature dishes at your hotels restaurant
23. Pictures of your staff (Front desk, housekeeping, HR, etc.)
24. Bartenders Signature Drink
25. Pictures of your rooms (suites, hot tubs, etc.)
26. Roses and Champagne in room (If you give these to honeymooner, those celebrating anniversaries, etc.)
27. Google+ Video Hangouts (Up close and personal with the Celebrity Chef, Front Desk Manager, etc.)
28. The weather (Sun glistening ocean, snow covered lake, sunsets, etc.)
29. Vintage photographs of your hotel
30. Pictures of room service on its way
"So, how does posting all these pictures bring me business?"
Pinterest is incredibly social. If visitors like what you pin, they will follow you, repin, like, comment on your page, and share with their friends. With the right management and patience, yours repins, likes and website visits will start rolling in!
Hot Tips & Takeaways
Here's the secret sauce: The simplest way to engage people is about the stuff that matters to them.  Show them places to go out when they stay with you, where they can eat, basically anything that would help them during their stay with you.
Don't forget, Pinterest is very much a "social" network. It's not just about pinning. Connect with other users, engage with them and like their content.
Use Hashtags. Just like social networks like Twitter and Google+, Pinterest users can leverage hashtags to tag their pins and make their content more search-friendly. (#LakeGeorge, #BeachResorts, etc.)
Here's a closer look at what Four Seasons is doing right with Pinterest: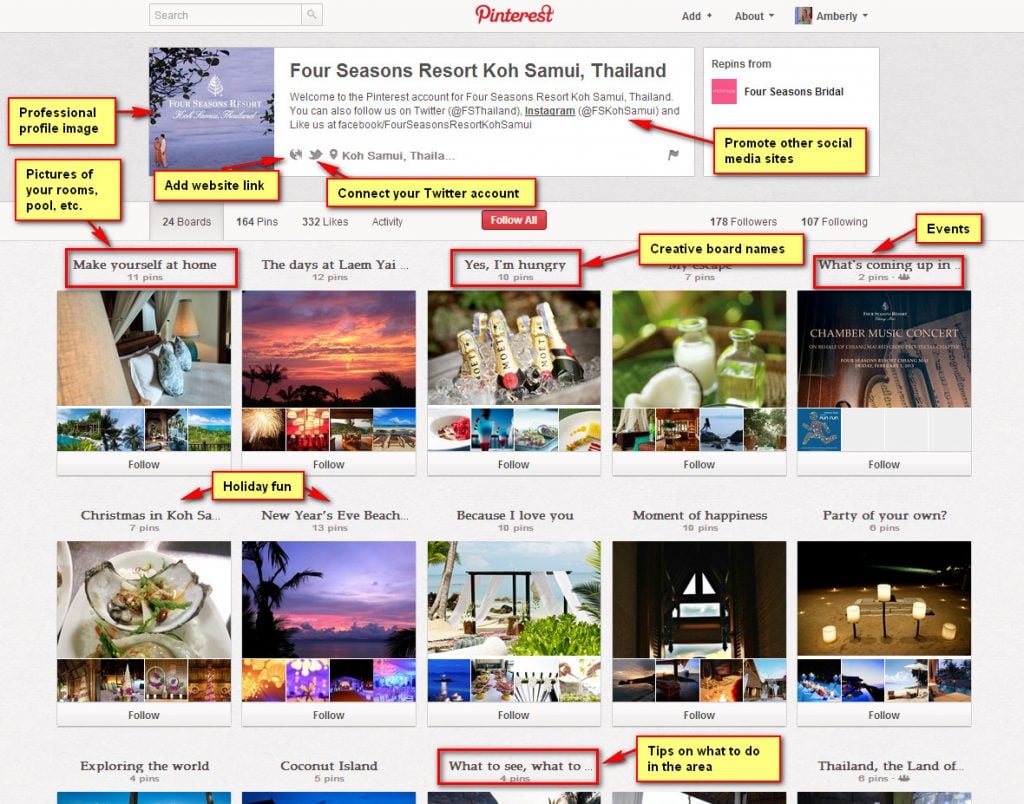 So there you have it, the Ultimate list for Pinterest for Hotels. Do you have any other tips or examples of hotels, resorts, restaurants or bars that are doing a great job of using Pinterest? Leave a comment and let us know! Need help setting up your own Pinterest account? Contact one of our Social Media Specialists at Mannix Marketing today at (518) 743-9424!