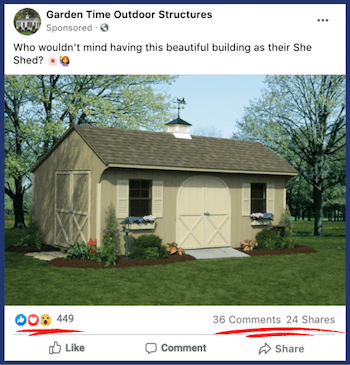 Facebook Marketing For Local Garden Center Increases Facebook Traffic by 1,256%
Garden Time is a local garden center in addition to a seller of high quality sheds, gazebos, and outdoor furniture serving the Capital Region.
When Garden Time came to us, their social media presence was lacking in consistency and engagement. They needed a dynamic Facebook presence to capture the attention of local homeowners in order to drive social engagement and sales in their stores. After just one year of Facebook Marketing services, Facebook traffic to their website increased by 1,256%!
The Results
1,265% increase in Facebook traffic
1,050% increase in website conversions from Facebook traffic
326% increase in Page "Likes"
Facebook Page Overhaul
In order to set Garden Time up for success, they needed a complete overhaul of their Facebook account. We optimized Garden Time's main brand page–including their profile picture, cover photo, our story box, and about us section–highlighting their years of experience and wide variety of products. We also created separate location pages for each of Garden Time's three locations and linked them to the main brand page, so the hours, addresses, and contact information of each location is easily displayed. 
In just one year, the number of users who "like" Garden Time's Facebook page increased by 326%!
Paid Facebook Marketing
Due to Facebook's recent algorithm changes, the only way to reach new users and your current followers on Facebook is to pay for it. We started with setting up a Facebook Business Manager and Ads Manager so we could manage their page and run paid Facebook Marketing. Then, we got to work drafting page posts and creating ads. Garden Time's monthly Facebook Marketing program is a combination of "boosting" posts on their main brand page and running Facebook Ads on Facebook and Instagram behind the scenes. This strategic combination of paid Facebook tactics captures the attention of new users while keeping your current followers engaged.
Through Facebook's audience targeting capabilities, we are able to hyper-target interests and industries that Garden Time caters to, in addition to creating remarketing audiences of users who visit their website or engage with their Facebook page.
The Proof is in the Results
Now, Garden Time's Facebook page regularly reaches 30k-45k unique users a month. After a full year of our Facebook Marketing services, Garden Time's website traffic from Facebook increased 1,256%! Website conversions from Facebook traffic is also up, at an increase of 1,050% year over year!