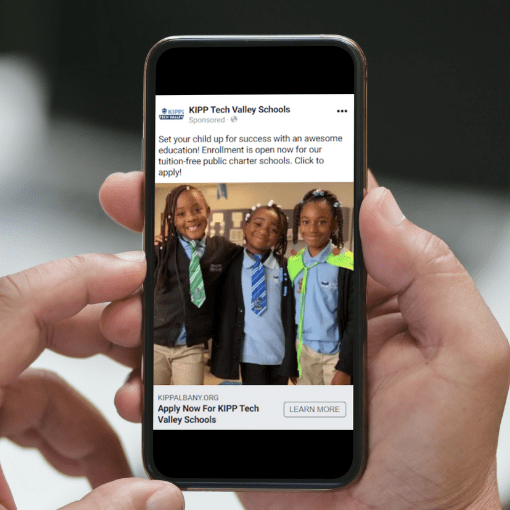 Comprehensive Digital Marketing Program For Charter School
KIPP Albany Community Public Charter Schools are a group of tuition-free elementary and middle schools in the City of Albany. This network of top-performing schools was created in July of 2020 through the merging of KIPP Tech Valley Charter Schools (KTV) and Albany Community Charter Schools (ACCS). During the merge, KIPP Albany knew they needed a multi-faceted local digital marketing campaign for their new unified group. 
Mannix Marketing focused on clear messaging, united branding, and promoting reasons to enroll for the 2021 school year, utilizing a variety of strategies to gain interest, traffic, leads, and engagement.
Kipp Albany's Local Digital Marketing Program:
Social Media
A series of monthly Facebook and Instagram ad campaigns were utilized to highlight the unique selling points of KIPP Albany schools. By putting emphasis on the safety and cleanliness of the schools, the high level of care, free education options, and the average test results compared to other local schools, Mannix was able to reach half a million impressions in just over 6 months. 
644,200+ Impressions

230,800+ Reach

7,000+ Link Click
Pay-Per-Click
A series of PPC campaigns were used to build brand awareness and drive enrollment to families in the Albany, Troy, and entire Capital Region. The campaigns received a total of 830,000+ impressions.
KIPP Albany's Regional Guide Marketing
Content Marketing

Display Advertising

Albany.com Top Level Directory Listing
KIPP Albany partnered with Mannix Marketing for a charter school website, SEO optimization, and a content overhaul. Read more about the results of their revamp.