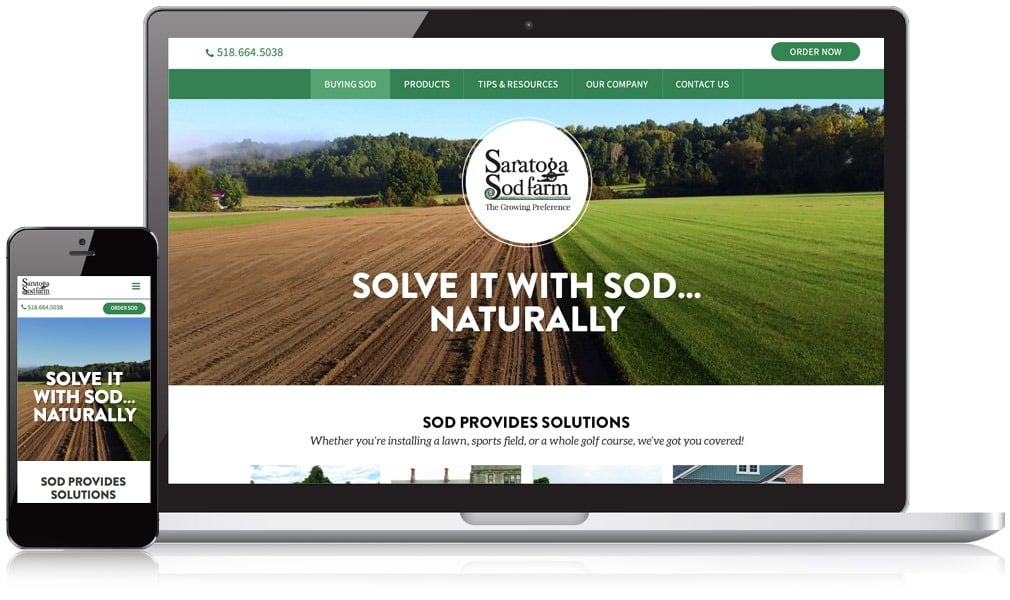 New Landscape Website = More Traffic, More Leads and More Sales!
Saratoga Sod farm is a premier turfgrass grower with a growing customer base across New York and New England. As the leading sod farm in Upstate, NY, Saratoga Sod needed a website that was up-to-date, informational, and user-friendly for their growing clientele. After the website was redesigned, Saratoga Sod saw a 20%  increase in traffic from the search engines and an increase of leads generated directly through the website which converted to orders.
The Results
103% More Keyword Rankings
23% More Leads Generated
16% Overall Increase from Core Market
Undergoing a total transformation, Saratoga Sod farm's new website has a modern, welcoming design enhanced by beautiful and bright photos, an easy navigation bar, and prominent call-to- action buttons. The fresh feel of the SEO friendly website design echoes the simplistic and natural aesthetic of Saratoga Sod farm. The responsive web design also tailors to their client base of busy landscapers and construction workers. The fast loading mobile-friendly design allows their on-the-go clientele to quickly call or order from Saratoga Sod farm.
Convert Visitors Into Leads
Unlike their previous website, the new design is uncluttered and informational, so visitors have a clear understanding of Saratoga Sod's products and services and how to contact them. The new website design offers a click-to-call phone number and two prominent calls-to-action, "order sod" and "request a quote," which are now their two most popular pages. These buttons strategically create multiple opportunities for converting website visitors into leads.
User-Friendly Tools
Saratoga Sod farm requested the creation of a sod calculator for clients to determine how much sod they need in a simple, efficient manner. At Mannix, our expert developers designed a unique calculator that provides a quick sod estimate for stream-lined and user-friendly quoting.
The team at Mannix Marketing are true professionals, focused on achieving our goals. We love the clean look of our new site—it's easy to navigate and loaded with helpful information. Customers are finding us, learning about the benefits of sod, and inquiries are converting to orders.
Penny Heritage | Saratoga Sod