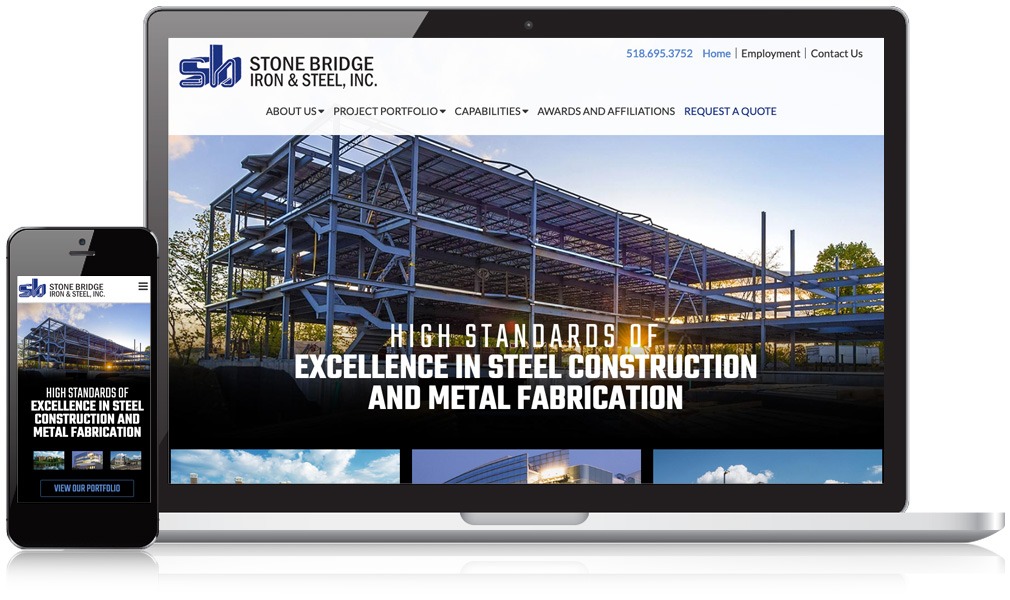 Metal Fabrication Company Gets Website Redesign To Highlight Expertise
Stone Bridge Iron & Steel provides structural steel fabrication services for a wide range of industries. Looking for a modern construction website that would make it easier to highlight their expertise, showcase noteworthy projects, and attract inquiries online, they entrusted the team at Mannix Marketing to design and develop a sleek, professional, mobile-friendly responsive website.
Website Design for Steel & Metal Fabrication Company
The home page offers a concise yet compelling introduction to Stone Bridge Iron & Steel's capabilities, while logos of certifications and industry affiliations are featured across the page to indicate the firm's high standards and commitment to excellence.
Large images coupled with user-friendly page layouts create a powerful, visually engaging format for showcasing the firm's vast array of steel fabrication and construction projects that span multiple industries. Projects are categorized by industry to convey the breadth of Stone Bridge's expertise and to help prospective clients quickly locate projects related to their own field.
Mobile-friendly responsive design ensures that this construction website will be easy-to-use on desktops, tablets, and smartphones. In turn, this creates a user-friendly experience as visitors browse Stone Bridge's project portfolio, learn about the firm's services, or fill-out a form to request a quote.