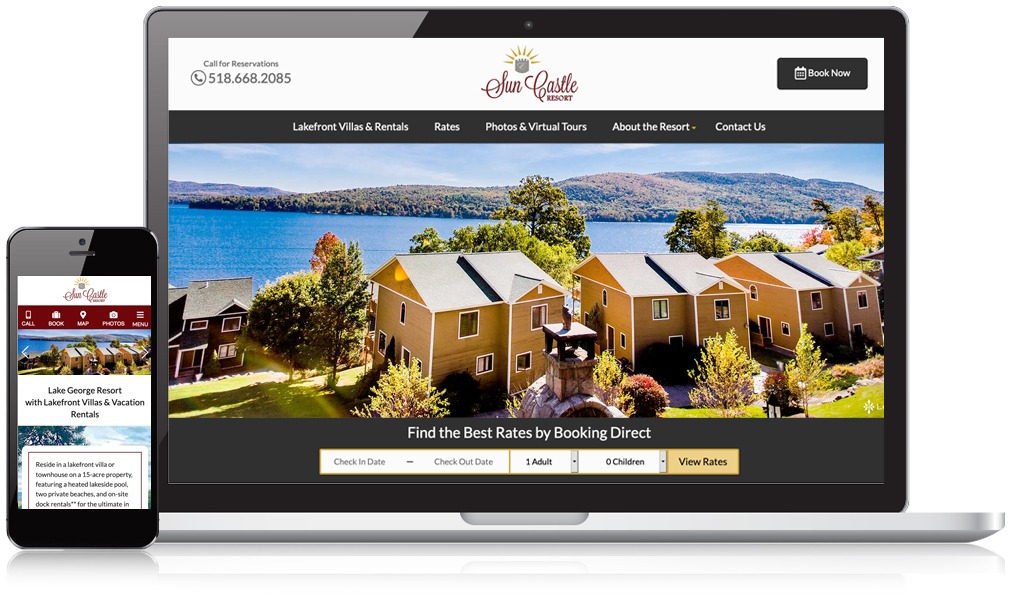 Luxury Waterfront Resorts Website Redesign Increases Traffic by 40%
Located in the breathtaking Adirondacks, the Sun Castle Resort provides premier Lake George accommodations, offering lakefront villas & vacation rentals with two private beaches and a heated lakeside pool. They came to Mannix with a site that was outdated and did not reflect the company brand. In addition, the site did not pass site speed tests and was not designed to rank well in the search engines or drive leads. Together, we developed a website that matched the resort's effortless charm.
The Results
40%More Organic Search Traffic
17%More Contact Form Submissions
55%More Page Views
The new site encourages visitors to browse rental options, make a reservation, submit contact forms and explore more of what makes Sun Castle the perfect place to spend your vacation. Strategically placed calls-to-action resulted in a 285.37% increase in page views of the contact page, a 16.66% increase in contact form submissions and a 20.32% increase in page views for rates!
Because so many travelers hop from smartphones to laptops to other devices when planning their trip, the new website uses a responsive design to provide a user-friendly experience across desktop, tablet, and smartphone devices resulting in 57.15% of new users discovering the site on a mobile device. 
With our SEO friendly web design, Mannix Marketing was able to:
Decrease bounce rate by 10% 
Decrease page load time by 3.5 seconds
Increase Organic Search Traffic by 39.83%
Increase Organic Search Sessions by 43.92% 
A critical part of the redesign was updating the website to meet the WCAG 2.1 AA code to as great a standard as possible. The Mannix team makes sure clients understand that accessibility is just as important for a website as it is for the actual physical space of their business. 
Finally, the Sun Castle Resort partnered with Mannix Marketing to promote their property on our extremely popular tourism guide websites. By listing their property prominently on LakeGeorge.com, Sun Castle Resort has been able to achieve higher visibility and increased search engine authority with optimized backlinks. This led to a 27.64% increase in their referral traffic with 31.06% of those users coming from LakeGeorge.com!
Is your travel & tourism business looking to increase their leads and website traffic? Contact our digital marketing specialists today!