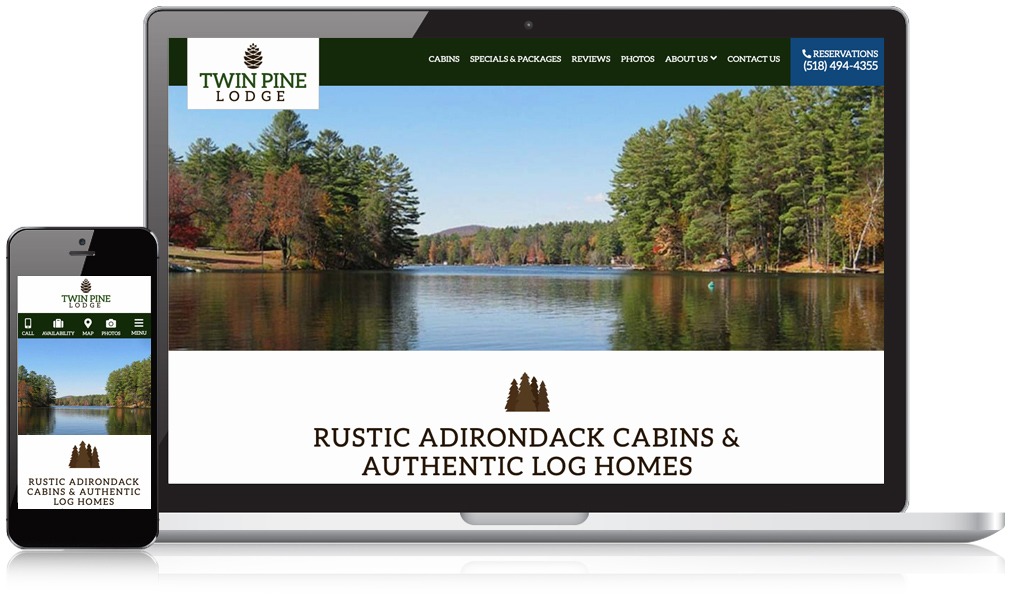 Hotel Website Redesign Results in 81% Increase in New Website Visitors
The Twin Pine Lodge sits just off the shores of Loon Lake, NY and offers beautiful, rustic accommodations in a peaceful Adirondack setting. With the summer season quickly approaching, new owners Wendy & Anthony knew they needed a clean and functional website refresh to gain bookings, so they turned to Mannix Marketing's team of tourism and web design experts to handle the job.
The Results
81%New Users
49%More Organic Traffic
137%More Mobile Traffic
A Fresh Website Design for The Twin Pine Lodge
Visitors are greeted by stunning images of Loon Lake and rustic shades of brown and green create a classic Adirondack feel.
Strategic calls-to-action encourage visitors to view the available cabins and cottages, browse photos, read reviews, and explore the on-site activities and amenities that make The Twin Pine Lodge a great place to stay in the Adirondacks year-round.
Because so many travelers hop from smartphones to laptops to other devices when planning their trip, we wanted the new website to use a responsive design that would provide a perfect user-friendly experience across desktop, tablet, and smartphone devices. Our strategy worked! The Twin Pine Lodge has not only gained more website users across the board, but the new design garnered a 137% increase in mobile users since the new site was launched.