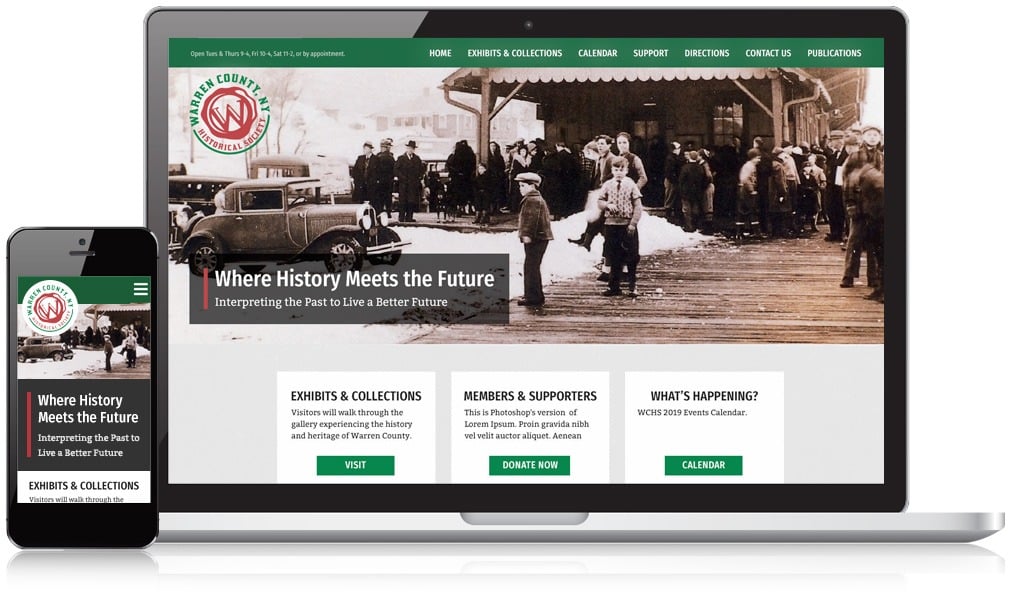 Modern Website for Historical Society Increases Organic Traffic by 41%
The Warren County Historical Society is a 501C (3) non-profit whose mission is to promote the history of Warren County, NY by supporting research and preservation efforts and encouraging public participation. The Society's old website could be considered a piece of Mannix Marketing's history itself, as it was first developed in 2005. It wasn't mobile-friendly, wasn't easily editable and the content was extremely hard to read, no matter the device! After 15 years, it was time to streamline the site and upgrade its look and usability for a 2020 audience. It was our goal to build a beautiful, easy-to-navigate site that reflected their special mission of keeping local stories alive.
The Results
41%Increase in Organic Traffic
65%More Page Views
19%Decrease in Bounce Rate
By creating a modern website that is easy to use, the Historical Society has seen a 41% increase in organic traffic with session durations for those users increasing by a staggering 78%. Users are visiting more pages and spending more time exploring the site. Pages for the Publications, Featured Exhibits & Collections and Special Events are seeing 5X, 6X and 9X the traffic they were before, respectively!
Our skilled team of website 'architects' and web designers implemented a fully responsive historical society web design that can easily be viewed on any screen. The new website design saw a 68% increase in mobile viewers. Whether you are viewing the site on a desktop, phone or tablet, calls-to-action are always prominent, encouraging users to contact the museum, become a member, volunteer, or donate.
We are proud to support the Warren County Historical Society in its special mission of keeping local history alive.
The Warren County Historical Society is extremely pleased with the website design done for us by Mannix Marketing. We began the process by laying out what content we wanted to emphasize on our website, and the excellent Mannix team developed a comprehensive and engaging series of screens that beautifully showcased all we have to offer at our museum, including a resource center, historical programs, archives and collections, book and gift shop, student internship program, and research and genealogical services. We now have a state-of-the-art, innovative website that allows us to more fully engage with our members and the public and to offer online historical content, store purchasing, and membership renewals. The feedback we've been getting on our website is awesome!
Teri Rogers, Executive Director | Warren County Historical Society