If you haven't been using Facebook to promote your events, you are missing out. Facebook is a great option for event promotion. With a vast user-base, Facebook offers many ways to reach potential event attendees. Facebook is used by over a billion people worldwide. By creating a well-planned Facebook marketing strategy, you can raise awareness of your event, start a conversation with interested Facebook users, and ultimately, increase attendance at your event. Here are 3 ways that you can use Facebook to promote your event.
1. Facebook Events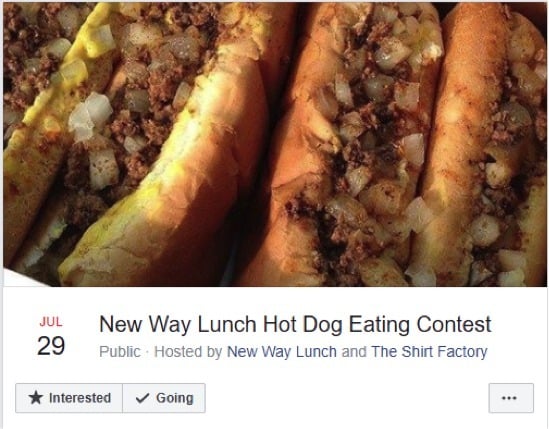 One of the best methods of event promotion is through Facebook Events. There are several things to keep in mind when you set up a Facebook Event.
It is important to use a simple, concise event name. Names that are too long or include too many symbols and emojis may make your Facebook Event seem less genuine. A better way to capture the attention of users is by using an interesting event description and an engaging cover photo. Make sure that the cover photo has been made to Facebook's latest size recommendations (current recommendations as of 2018 are 1920×1080). It is also important to check to see how it looks on different devices.
Choosing a relevant event category and adding the event location will allow Facebook to suggest your event to local users who have shown an interest in similar topics. Be sure to include event details to provide users with sufficient information. A well-optimized, engaging Facebook Event can be very successful.
One way to take your Facebook Event to the next level is to use relevant or custom hashtags. This allows users to join the conversation. It is also great to tag any exciting partners, performers, or vendors who will be participating in your event. Encourage partners, performers, vendors, and event attendees to share your Facebook Event and help spread the word. You can also add co-hosts to your event to give them an opportunity to participate in the event even further. Once your Facebook Event has been created, there are a couple of ways you can promote it right from your Facebook Business Page.
2. Facebook Business Page
Your Facebook Business Page has two sections for events. The first is the Events tab. This tab may not be very prominent on the page. It could be towards the bottom of the tab list on desktop and users may need to scroll to see it on mobile devices. To update this tab go to the Edit Page section of your page Settings and drag the Events tab to a more noticeable position.
The second section for events is the Upcoming Events section. This shows up in the feed of your page. By keeping your events up-to-date, users will be able to easily scroll through them each time they visit your Facebook Business Page.
You can also update the cover photo for your Facebook Business Page. Choose an image that represents your event and include a link to the Facebook Event in the caption of the photo. Similar to the cover photo on your Event page, it is important to make sure that you are using Facebook's latest size recommendations (current recommendations as of 2018 are 828×315) and that you have viewed the image on different devices.
Another way to use your Facebook Business Page is to create unique posts about the event. You can share information in the weeks leading up to the event and even provide updates the day of the event. These posts can help generate more awareness about your event.
One thing to keep in mind is that organic reach has significantly declined for Facebook Business Pages. Though your number of followers may be increasing, it is likely that you are only reaching a small percentage of those users. For that reason, you may want to consider Facebook advertising options.
3. Facebook Advertising
Facebook advertising can be used to boost your Facebook Event or the organic posts on your Facebook page. It can also be used to run separate ads to provide additional event promotion.
You can boost your Facebook Event and organic Facebook posts to help raise awareness of the event. The Facebook Event and posts can be boosted to users who like your Facebook Business Page, Facebook friends of those users, or users you choose through targeting. When you choose the targeting method, you can reach new users based on unique identifiers such as their location, interests, and demographics.
There are several different ways to use Facebook ads for additional event promotion. Facebook offers different objectives to help you reach your goals. Here are some that could be useful for promoting your event.
Brand Awareness: The Brand Awareness objective will help you reach users who are more likely to show an interest in your ad.
Reach: This objective will show your ad to the largest number of users, helping you increase awareness.
Traffic: The Traffic objective will enable you to send users to a location off of the Facebook platform such as a website, an app, or a Facebook Messenger conversation. This objective can be useful if tickets can be purchased on your website.
Engagement: The Engagement objective will help deliver more engagement for your post or Facebook Business Page. This objective offers three optimization options. You can use it to deliver more Post Engagement, Page Likes, or Event Responses.
Video Views: This objective is useful if you have promotional videos available. It allows you to share those videos to raise awareness of your event.
Conversions: The conversions objective will help you reach users who are more likely to take valuable actions on your website, app, or in Facebook Messenger. Similar to the traffic objective, this objective could be useful if you offer online ticket sales. In order to use this objective, you will need to install the Facebook pixel or app events to track conversions on your website.
Once you choose your objective, target an audience that makes sense for your event. Similar to the boosted posts, you can target users with different locations, interests, demographics, and other unique identifiers. If you would like to test out different targeting, you can use the Facebook Split Test to deliver ads to two different target audiences and determine which one is more successful.
Spread The Word About Your Next Event On Facebook!
Each of these methods will raise awareness of your event. By using all three together, you can build a strong Facebook marketing strategy that will not only raise awareness, but will help make your next event a success!
Want to take your Facebook marketing to the next level? Set up a social media consultation with our Facebook experts!
Interested in learning more about marketing on the Facebook platform? Visit the Social Media section of our blog for social media marketing tips!