Including social interaction on your website has not only become common nowadays, it's become expected! When a user sees something interesting on the internet, they'll often expect some type of button that lets them quickly and easily share the content with their friends through a single click. Social media platforms like Facebook have continued to improve on the process of adding these buttons to your website, but it can still be difficult to sort through the many different types and intents of integration they offer.
For the most part, Facebook's social plugins can be split into two types:
Sharing content: Buttons that let a user share the page they are viewing with their friends.
Connecting with a brand: Buttons that let a user see more updates from your brand on their own Facebook news feed.
"Like" buttons are the most well-known buttons that allow users to share content; however, Facebook also offers "share" buttons and "send" buttons, which give the users more control over how and where the content is displayed. Connecting with a brand is also typically done through a Like button (or "Like Box"), though a "Follow" button is also available for those who use a personal Facebook account for promotional purposes rather than a fan page.
So which of these integrations should you use on your company's website? Let's break it down.
Like Button: Thumbs Up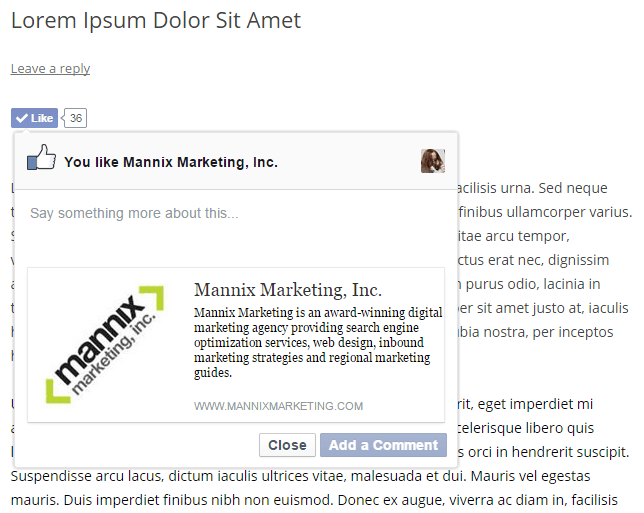 The Facebook Like button lets visitors share a page with their friends through a single click (or tap). Clicking on a Like button will create a story in their Facebook news feed that shows the title, thumbnail and a short description of the page they Liked. The Like button is the quickest way to share content since visitors don't need to specify a message or confirm that they want to Like it.
Like buttons are typically seen in blog posts, articles, or any other type of content that is likely to be seen in social media. These buttons are rarely interacted with on service and About Us pages.
Visit the Facebook Like Button page and fill out the form to obtain the proper code for adding this plugin to your website. Services such as AddThis and ShareThis let you add share buttons from multiple social media platforms to your website with a simple code. Using WordPress? The popular Jetpack plugin includes a social media component, and AddThis and ShareThis both have a WordPress plugin that lets you easily integrate social media buttons to your pages and blog posts.
Share Button: Sharing Content with Context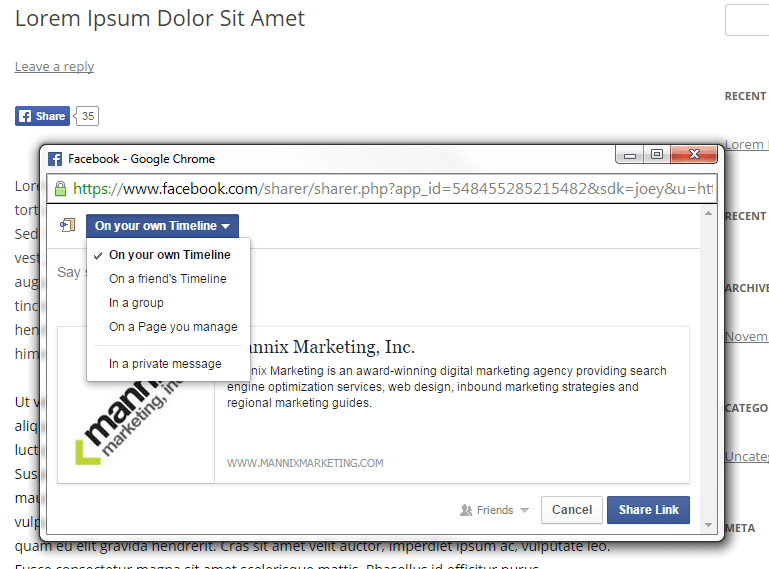 Facebook's Share button is the predecessor to the ever popular Like button. While the Share button serves a similar purpose as the Like button, the former gives visitors more control over where the content is shared (thus providing more context around the shared content). When visitors click the Share button on your website, they have the option of sharing the content to their Timeline (the same as the default Like button click), to a friend's timeline, in a group, on a page that they manage, or even in a private message.
Generally speaking, deciding whether to use the Like button or the Share button on your website comes down to personal preferences. Previously, Facebook tried to phase out the Share button in favor of the Like button, but in recent years they've started presenting the Share as a viable option again. If you want to give your visitors more control over how your website's pages are shared and want to give them the option of adding messages to the news story that is generated, then the Like button is the way to go. Ultimately it comes down to the Like Buttons one-click ease of use versus the Share button's flexibility.
Similar to the Like button, Facebook provides a handy form that you can fill out to generate the code needed for adding this plugin to your company's website. Additionally, when generating a Like button, Facebook provides the option to add a Share button alongside it. Share buttons are also typically included in share button services such as the previously mentioned AddThis and ShareThis.
Send Button: Sharing Private or Personal Content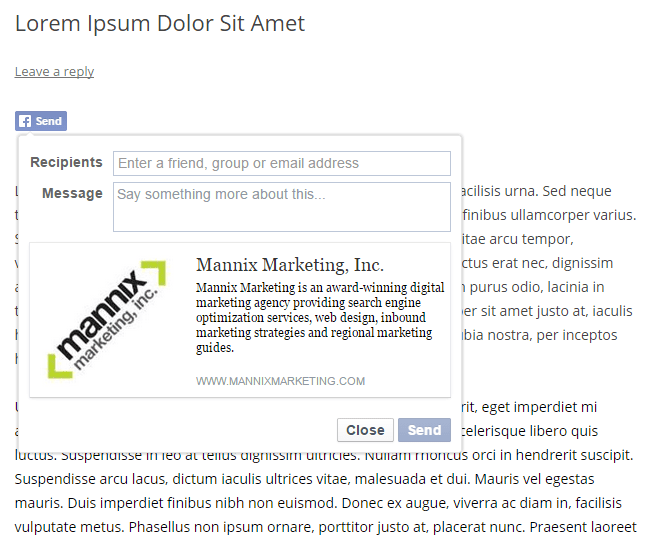 Back when Facebook was attempting to phase out the Share functionality, the Send button was provided as an additional option when generating the Like Button for use on a website. Its purpose is the same as the others – to share the content of the page with friends. However, the Send button does not include the option to share content publicly. When a visitor clicks "Send" they have the option of sharing with a specific friend, group or email address, and can also provide a message along with the link.
Unfortunately, the Send button has very few and specific use cases. If the content of your site is considered private and is something your visitors would not want to appear on their social profiles, then the Send Button is the way to go. It's best to treat this button as you would any other "Email to a friend". This button is purely for convenience and has much less weight than Liking or Sharing does for marketing purposes.
Adding the Send button to your website can be done through Facebook's Send Button form, which will provide the necessary code.
Like Box: Grow Your Fan Base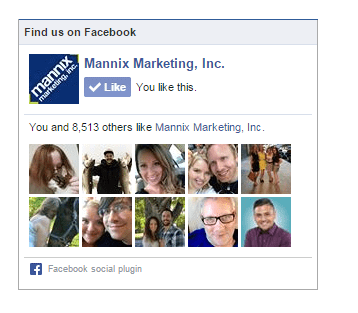 The Like Box is possibly the most confusing of Facebook's many social plugins since it also includes a Like button. However, the Like button featured within the Like Box isn't used for the purpose of sharing the content of the current page. Instead, clicking the Like button within the Like Box will allow visitors to Like your Facebook Fan Page (and thus subscribe to your page's updates which will be shown in their news feed). This is the same action as if they clicked the Like button that appears on your Fan Page inside of Facebook.
It's important to note that the URL that is "Liked" can be customized for any Like button. Theoretically, you could add the previously mentioned standalone Like button and add your Fan Page's url to it, and it would provide the same benefits as the Like Box. However, users expect standalone buttons to Like the page that it is presented on, and could become confused or upset if it does not perform that action. In worst cases, it could even be considered clickjacking! The Like Box makes it clear to visitors that they are connecting with a brand by showing the page's name, icon and a list of users who have also Liked the page (providing a little bit of "social proof" or credibility to your page).
If you want an easy to way to let users connect with your brand without having to leave your website, the Like Box is a good choice. Like Boxes should be included in footers or sidebars, so that there's less chance the user will confuse it with a standalone like button.
Simply fill out Facebook's Like Box form to receive the code needed to add this particular plugin to your website.
Follow Button: Not Just for Celebrities (but mostly)

The Follow button is a fairly recent addition Facebook has made to its ever-evolving list of social plugins. By clicking on the Follow button, visitors can connect with a personal Facebook account without adding them as a friend. When a visitor chooses to Follow a Facebook account, that account's public Facebook posts will then start to appear in their own Facebook news feed.
This plugin is typically used by celebrities and other public personalities who want to allow users to subscribe to their public posts while still retaining their privacy. This button is only used for personal Facebook accounts and is not available for Facebook pages.
Getting Social with Facebook Marketing Buttons
When it comes to making your company more social, Facebook definitely provides a lot of options! In most cases, it's best to choose one type of button that shares content (Like, Share, Send) and one type of button that connects with the brand (Like Box, Follow). Add sharing buttons very close to your body content so the users can easily find it, and add items that connect with your brand to headers, footers or sidebars where a user would typically look for them. These actions may have become expected, but having too much social interaction can frustrate the user, not to mention slow down your website! As with everything, a good balance is key.
In addition to these, Facebook also provides some more specific functionalities, such as the Activity and Recommendation feeds (which let users see how their friends have interacted on your website), the Comments plugin (that adds full-fledged threaded comments for Facebook users to your individual pages), and more. These plugins and others can all be found on Facebook's Social Plugins page.
All of these options can certainly get overwhelming for businesses, and the same is probably true for visitors! If a visitor sees too many Facebook boxes on your website they can easily get confused as to what each plugin asks them to do, or worse, choose not to engage at all. This is especially true when adding on Google+, Twitter, and other similar buttons as well.
As a result, it's very important to think carefully about which social plugins to use on your website, the placement of said plugins, their impact on your website's user-experience, and how they'll ultimately help your company reach its goals.