Social networking has changed the way we search for and receive information forever. Using free and powerful tools like Google Trends Hot Topics to beef up your social media optimization and get ahead of your competition in real time is the name of the game! As fast as the news can be shared, it becomes fodder for branding everything from basketball shoes to cell phones to celebrities. Social media is here to stay!
But…social media online branding is a daunting task, no? Actually, it's not as difficult as you might think if you can a.) stay abreast of the latest hot topics and b.) be creative enough to use that information to get ahead of your competition! For blogs and real-time news, Google Trends Hot Topics is a blue-chip tool for research, revealing the latest trends in everything from shoes to car parts! Hot Topics is a particularly effective tool for seeing who is talking about what – right now – and providing you the opportunity to get in on the conversation while it's happening!   
Hot Topics highlights popular topics, trends and phrases that are currently finding their way into today's real-time marketplace. For instance, on Google Trends the #1 topic today, May 18th,  is "miss usa". When I click on the link, it brings me to a landing page with options for all the latest and greatest data – I can choose from news, the latest Twitter and Facebook updates, videos and more: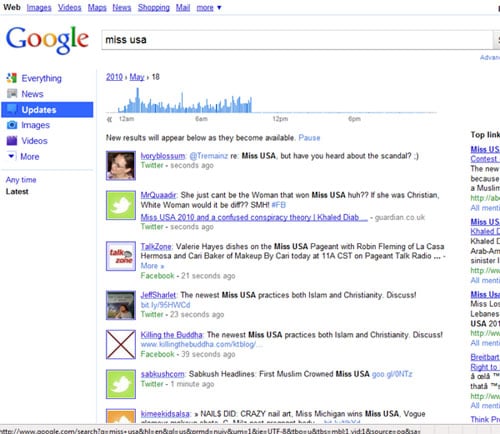 How can this help your business? Search for your own keywords under "More Hot Topics". Here you will find the same data…news, real-time updates, shopping, videos, all areas of input that reflect who is talking about what in your area of interest. Jackpot! Combined with a fabulous, optimized website design and a business plan that incorporates search engine positioning services, social media optimization is a key component in staying ahead of what the competition is doing.