As an SEO it's critical to keep a pulse on industry trends and how search results are being displayed for various search queries. Yesterday we noticed that Google+Local profile photos were showing up for a select number of listings in the local search results, very similar to how Google+ photos show up for websites with verified authorship accounts. This could have a major impact on click-through rates for businesses that have an optimized Google+Local page.
Google+Local Profile Photos
To date, the only example of Google+ photos appearing in search result listings was a result of having a verified Google Authorship account. For authors who have enabled authorship on their website's blog, Google displays their profile photo next to their listing in the search engine results.
After running a few local search queries, we noticed an interesting display in the Local search results for the phrase [personal injury lawyers albany ny]: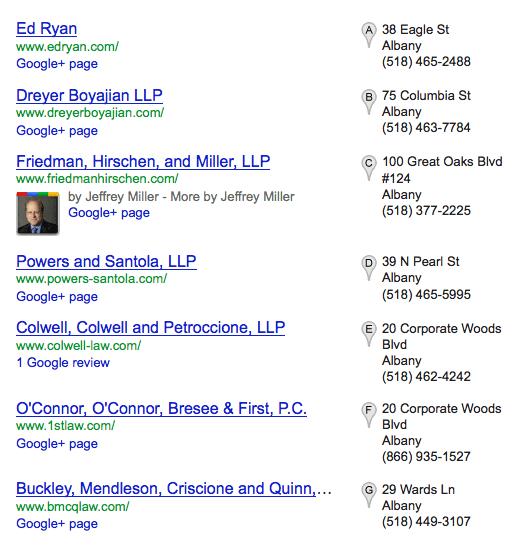 The integration of Google+Local photos in the local search results may have a noticeable impact on click-thru-rates for companies that have an optimized Google+Local listing. There have been many indications that an author's photo in the search results can positively influence click-thru-rates, and it's plausible to suggest that we should see a similar effect with the display of photo-optimized Google+Local listings.
The Growing Importance of Google+
Last year we saw Google+Local replace the Google Places profiles, as Google+ continued its path to growth. Today's findings may simply be another fleeting experiment conducted by the Google search team to analyze click-thru-rates for photo-enhanced listings (however, the results are still visible today when running a similar local search query). The one certainty from all of this is that businesses must have an optimized Google+ presence if they want to capitalize on every aspect of getting found in the search engines.