Google has been rolling out new features focused on home improvement and home services. Google Local Services Ads and the Google Guarantee Program are new advertising products now available in Upstate NY and other areas throughout the U.S. and Canada.
What Are Google Local Services Ads?
Google Local Services Ads are a new form of pay per click advertising aimed at the home improvement and home services industry. There are many benefits to the Local Services Ads program.
These ads are located at the top of the Google Search Results, above all of the other paid search ads. The ads display the area served, phone number, and availability to help simplify the booking process. Unlike traditional paid ads, advertisers pay per lead, not per click. This can help advertisers spend their budget more effectively since they only pay for valid leads.
Local Services Ads have many benefits, but they are not a replacement for traditional paid ads. Some consumers prefer to visit a website before booking an appointment and will click on a traditional ad. That is why we recommend advertising with both local services ads and traditional pay per click advertising.
Local Services Ads do offer some additional advantages over traditional ads. They prominently display review ratings right within the ad and make it easy for prospective customers to read testimonials about the business. The Local Services Ads also display a Google Guarantee badge certifying that the advertisers participate in the Google Guarantee Program.
What is the Google Guarantee Program?
The Google Guarantee Program is currently only available for home improvement and home service industries. Through the Google Guarantee Program, businesses can qualify for the Google Guarantee badge. This badge essentially provides another trust symbol to show consumers that your business is legitimate. Businesses automatically apply for the Google Guarantee Program when they sign up for Local Services Ads. In order to earn a badge and run Local Services Ads, businesses must be prescreened and verified by Google as fully licensed and insured home service providers.
In a way, the Google Guarantee for home services is like insurance for the consumer. Though there are a lot of restrictions, the Google Guarantee tells consumers that they will guarantee the work of the contractor they have verified up to a certain dollar amount (currently $2000). Consumers can cash-in on the guarantee anytime in the 30 days following the completion of a job by filing a claim if they are dissatisfied (assuming that their dissatisfaction does not fall within the guarantee exclusions). This guarantee can help encourage consumers to choose your business for their home improvement or home service needs.

How to Sign Up for Google Local Services Ads
Google offers a simple process to check your eligibility for Local Services Ads. You can start by visiting the Local Services Page and signing into your Google Account. Once you are signed in, you can check your availability by entering your Country, State, Zip Code, Job Category, and Insurance Status. If you qualify, you can learn more about the program through Google's helpful Local Ad Services resources. These resources also provide details on the screening and qualification process. The process is free for all businesses that want to participate.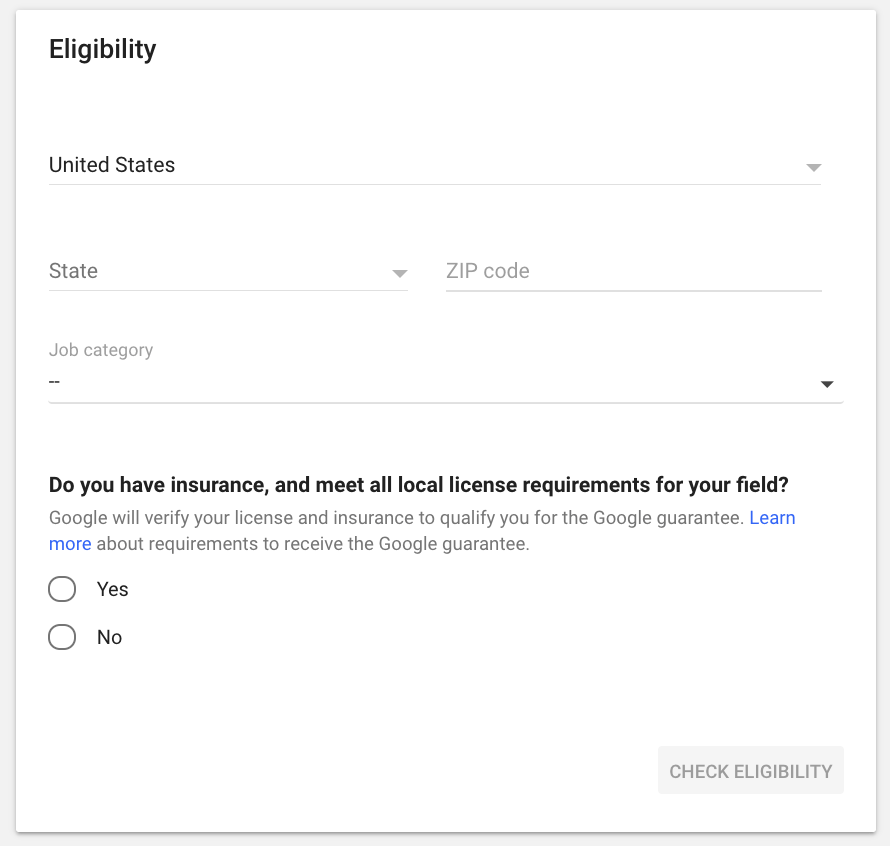 Setting Up Your Local Services Ads Account
Google has a separate platform for the Local Services Ads. Within this platform, businesses can set a budget and track their leads. Unlike the Google Ads platform, there are no keywords or ads to manage, but businesses do need to create a profile and add their relevant business information such as their photos, business highlights, service area, and hours. Local Services Ads show up when a consumer searches for search terms relevant to your business.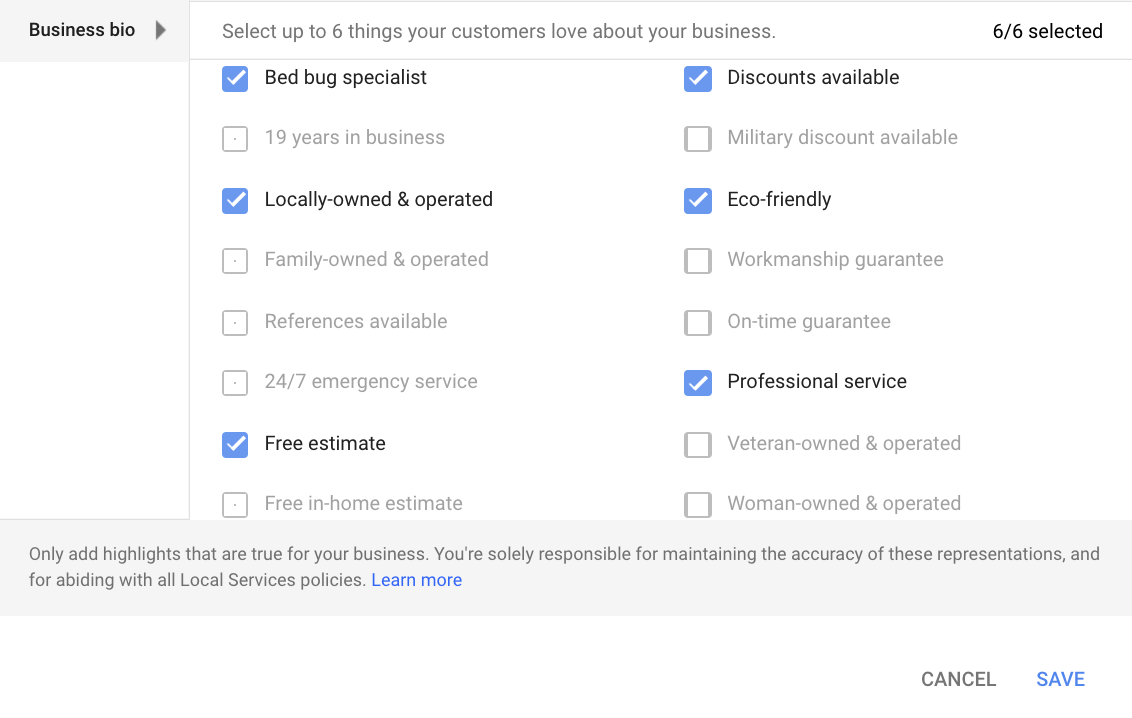 Google will track the leads by call tracking and message requests (U.S. only). You will pay Google a fee for each lead you receive. The cost per lead started out quite affordable (at the moment it's an average of approximately $25/lead), so when this comes to your area, you'll want to be ready to jump on the bandwagon while the value is still high.
Free Local Services Listings
In addition to the Google Local Services Ads, Google has Free Local Services Listings. The free listings appear below the paid listings and do not have the Google Guarantee badge. Businesses can show up in these listings when their Local Services Ads are paused, if they run out of budget, or if their ad is on a schedule and the search is conducted at a different time. These free listings can help provide additional exposure to local businesses!
If you offer home improvement or home services, check your eligibility now!
Businesses that offer HVAC, home cleaning, lawn care, pest control, appliance repair, or other home repairs and improvement services could be eligible for Local Services Ads. Check your eligibility for the Local Services Ads today! These ads could be a great way for you to improve your business' online presence, attract new customers, and generate additional sales. Not available in your area? Check back in a month or two. These ads may be rolling out to your location soon!
Eligible for Local Services Ads but need some help with the process? Give us a call at 518-743-9424 or contact us online to learn about our consultation services. We can help you take advantage of these new opportunities to maximize your online presence and drive results for your business!