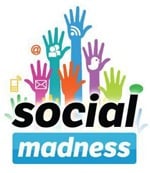 Have you heard of the Social Madness corporate media challenge? It's a competition that measures the growth of a company's media presence. Companies from 43 cities across the United States are encouraged to leverage their social influence to get fans and followers to vote for their favorite local business on The Business Journals' Social Madness page.
Companies are scored in a somewhat complex manner, with an algorithm that gauges LinkedIn connections, Facebook activity, and Twitter followers, along with the number of votes received on bizjournals.com.
Voting for the first phase is open until June 18, at which point the top 8 companies will advance to the next phase.
We got off to a bit of a slow start, so let me tell you why you should vote for us, and encourage your friends or coworkers to do the same.
What Do We Do?
In addition to Internet Marketing, Website Design, and our collection of Online Guides, Mannix Marketing specializes in Search Engine Optimization. We build our brand, and that of our clients, through the use of Facebook, Twitter, LinkedIn and Google+. Website traffic plays a huge role in organic search engine optimization, and social media sites (with hundreds of millions of users worldwide) are an excellent resource. It is extremely important to businesses, small and large, to maintain a relationship with customers and the community through social media.
We have a dedicated team that launches very successful social media campaigns, maintains a healthy relationship with the community, and drive a ton of traffic to our clients sites, as well as our own.
Why Vote for Mannix Marketing?
Our Facebook, Twitter, LinkedIn, Google+ and Pinterest pages reach over 315,000 people per day.
We promote the Adirondacks daily to over 145,000 fans.
We utilize a strong social media strategy that includes:
Having a Plan
Creating Valuable Content
Creating Brand Awareness
Reinforcing Brand Loyalty
Engaging a Positive Response
Driving Qualified Traffic to your Website (and ours)
Having an Ultimate Goal (data capture/sale of a product/promotion of a cause/further branding)
How Do You Vote?
Visit the Business Journal's social madness page and scroll down the list until you see Mannix Marketing Inc. (the more votes we get, the less you'll have to scroll – so help the next guy out).
I'll even make you a deal.. If you like, follow, or connect with any of our social media sites, shoot me an email (address at the top of this post) telling me that you did so and I'll like, follow, or connect with you back!
Didn't Vote Yet? Do It Here >>