With the use of new technology and social media tools, businesses are able to understand their customers' needs and wants in ways never before possible. Fortunately for internet marketers, we have amazing technologies and tools at the tip of our fingers that allow us to listen and respond to customers on a whole new level.  Gone are the days of mass impersonal messaging in advertising and marketing. These days, there are new ways to engage in conversation with your audience and get the feedback you need. With these results, we have the power to give consumers not only exactly what they want, but how and when they want it.
How can you find out what consumers want?
Social Media Sites
Social media is completely revolutionizing the way businesses interact with their customers. Stored information from Facebook, Twitter, Foursquare and other networking sites can show us what brands people like. With this data, companies can now listen and respond to what it is people really want.
For example, Carnival Cruise Lines does a great job at listening to what people are saying. Their team monitors Twitter and Facebook for any mentions of their brand using the platform Tweetdeck. Social Media Manager from Carnival Cruise Lines Eric Schechter states, "We not only listen to the good, but also to the bad, correcting any customer service or providing service recovery if possible. We take into consideration what people write on our Facebook page and use these suggestions and comments to improve our cruise ships, guest experiences, etc. Social Media builds trust by being able to directly engage in conversation with the people who build and make our brand what it is."

He continues to explain how the consumers "voice" actually builds the brand. "Now, with consumer generated content, customers turn into your brand ambassadors. By simply uploading pictures, videos, or commenting about your product or service, they are essentially building free PR for you! What's better then free advertising?!"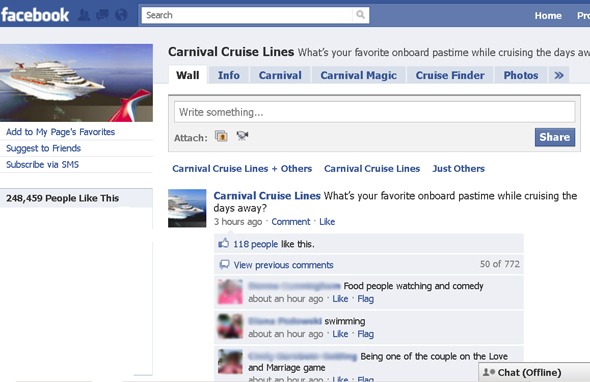 (Above is an example of Carnival Cruise Lines promoting conversation with customers through Facebook.)
Another example of successfully understanding the needs of your consumers is a Facebook campaign by Target. Target launched a back-to-school Facebook page targeting college students living in dorms. The page included interactive games, photo and video posting opportunities as well as a discussion board. They offered a fun quiz application and colorful graphics which captured the interest of college students. In result, the page attracted a surge of new traffic and allowed Target to connect users to not only their brand but to receive insight on their products and customer service, both positive and negative. Marketers could then use this information to make changes to their current strategy and learn what exactly to continue doing and what to change out or improve on.
On the flip side, with the emergence of social media many consumers have also used this as an outlook to post negative comments and to vent or rant about products or services. Companies need to understand that this is not necessarily a bad thing. It gives the company an opportunity to fix the problem and a chance to learn what they can improve on in the future. If you are a business, check out this interesting article on how you can respond to negative social media reviews and turn it around to a positive. [Editor's Note: Site where article was located is no longer available.]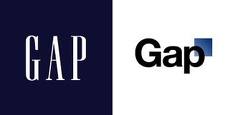 One example of a company responding to negative feedback positively is Gap. After 20 years with the same logo, in 2010 the company decided to revamp it with a new one. This resulted in a frenzy amongst customers all over social media networking sites. Followers of the business posted negative comments about the new logo.  So what was Gap left to do? Nothing but the obvious. They were able to take this feedback as constructive criticism and give people what they wanted – the original Gap logo back. In result, the negativity turned positive as it created buzz for the brand, increased sales that year, gave people a voice in the company and gave them back what they wanted.
In conclusion, internet marketers are using social media to help them better understand customers. Whether it's listening to suggestions for new products or turning a negative review into a positive buzz, businesses are taking advantage of this new medium.  A few years ago companies would have killed to have these channels  of communication with their consumers.
Social media can be an extremely powerful channel if you have the right internet marketing company that knows how to use it correctly.  If you're looking to understand what your customers want on a whole new level, let an internet marketing professional help.  Contact Mannix Marketing, Inc., your local Upstate NY internet marketing company to learn how you can use social media to create better experiences for your customers.