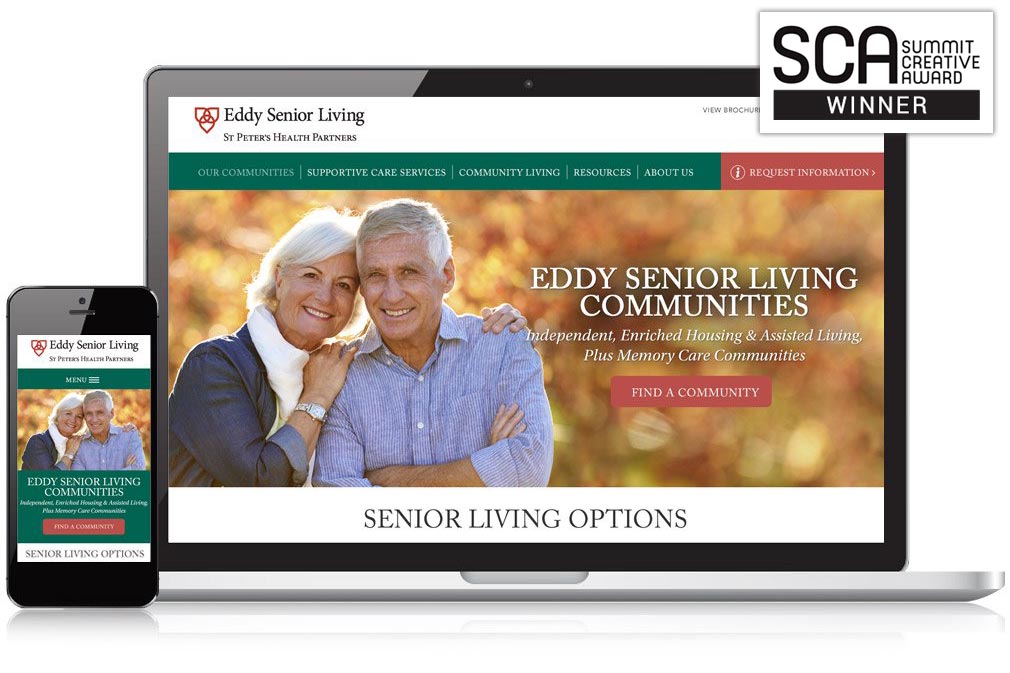 Senior Living Facility Gains 61% Increase in Website Traffic
Eddy Senior Living Communities – a division of St. Peter's Health Partners- offers independent living, enriched housing/assisted living and innovative memory care community for seniors. Designed using conversion rate optimization, leads increased 53% after the site was launched!
The Results
61% increase in website traffic
590% increase in paid search traffic
2226% increase in social traffic
Finding the right senior living community can be a major decision for seniors and their caregivers. The SEO and web design teams at Mannix Marketing recently partnered with Eddy Senior Living Communities to increase qualified leads for Eddy's many independent and assisted living locations. The goal was to further improve upon Eddy Senior Living's already significant digital marketing efforts through a website redesign, Facebook management, SEO, and Pay-Per-Click services.
Website Redesign & On-Going SEO Optimizations
In prior months the Mannix Marketing SEO team had been working with Eddy on an SEO and paid search campaign, but knew the increased traffic generated to the site was still not converting as effectively as it should have. A redesign of the website was in order, to even better optimize its conversion rate. We designed a modern and user-friendly website complete with call-to-actions, SEO optimizations, and a live chat feature to drive leads. As a result of our efforts, the website design was the 2017 winner of the Summit Creative Award for the Website Design.
As apart of the monthly SEO services we focused on replacing irrelevant, spammy traffic with relevant traffic that converted. Optimizations included: reworking pages to concentrate on chosen keywords, claiming and optimizing Google My Business Listings, developing targeted blog content based upon questions the target audience was asking, and ongoing conversion rate optimizations.
As compared to 2016, the year of 2018 saw:
61% increase in website traffic
20% increase in page views
56% increase in local traffic
6% increase in organic traffic
82% more form completions from Google organic
Facebook Management
We developed each community with an individual Facebook page to drive traffic back to the site. On these pages, we focused on showing the vibrancy of community living. Our efforts include: sharing the website blog content, posting upcoming events, and sharing resident activities and stories.  As a result of the Facebook management program, the website saw a 2226% increase in social traffic. 
PPC Management Service
During a monthly PPC management program, Mannix separated the Eddy Communities' one general ppc campaign into individual community campaigns to focus on each of the communities' specific marketing goals.  Optimized landing pages were developed for each specific campaign. These landing pages were extremely effective at keeping a user's attention, giving them enough pertinent details to prompt them to contact Eddy for more information. This lead to a 590% increase in paid search traffic. Since the new website design launched in November 2016 through February 2018, compared to the previous time period, we saw:
1,828% increase in form completions from Google AdWords
167% increase in form completions from Bing Ads
Are You Ready to Increase Your Leads?
As a result of the robust senior living digital marketing program, Eddy Senior Living was able to reach record occupancy levels and won the 2019 Best Interactive Marketing Award in the Health & Beauty Sector. If your senior living facility is struggling with occupancy, we can help!  Contact our senior living marketing specialists today for a free consultation!