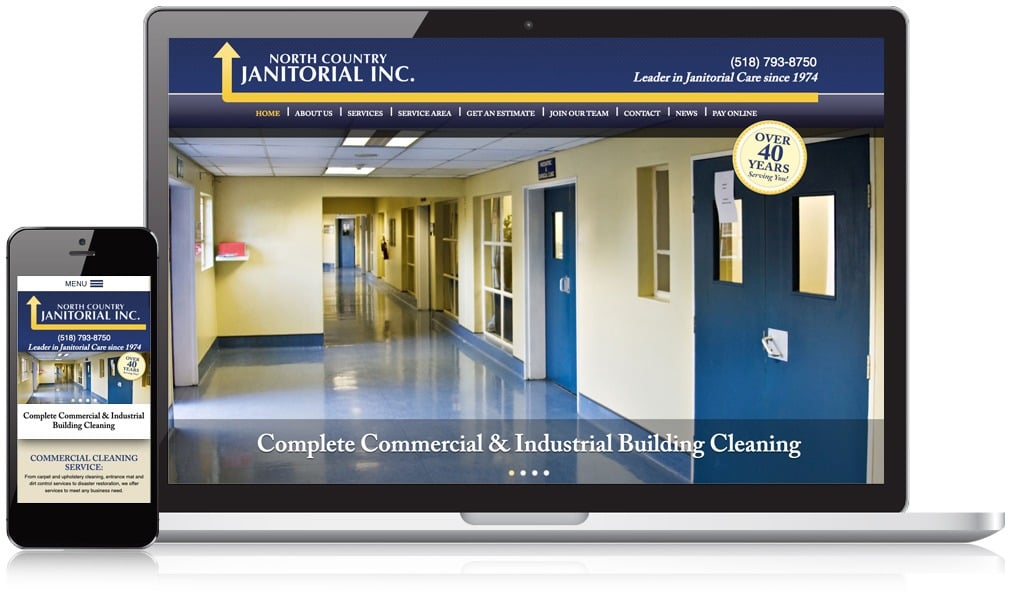 Cleaning Service Gets New Website Design To Clearly Showcase Latest Services
North Country Janitorial provides a full range of commercial and industrial cleaning services to businesses across upstate NY. While the company has been touted as "Best of the Region" since 2006, they needed a modern, easy-to-use website that could convey their unique selling points, help new clients discover their best-in-class services, and provide an easier way to attract the right talent to their growing team.
Modern, User-friendly Commercial Cleaning Website
To help the hurried visitor quickly grasp North Country Janitorial's wide array of professional cleaning services, the new website design features large, clickable cleaning service icons across the center of the home page. From here, visitors can easily learn more about the solution that best fits their needs by clicking-through one of the various cleaning icons and landing on a page which describes that particular service in greater detail.
As visitors navigate through the new responsive designed website, strategically crafted calls-to-action such as "Contact Us" and "Get An Estimate" encourage visitors to take meaningful action; from there, the user-friendly contact forms and click-to-call functionality make it easy for potential customers to contact North Country Janitorial directly via their desktop, tablet, or smartphone device.
Online Job Application Simplifies the Recruiting Process
Another high priority goal for the new website was to help attract more talented staff members by simplifying the online application process. The "Apply For A Job" call-to-action pulls potential job seekers through to a detailed job application form which they can then complete to begin the application process.
Of course, the new website for this commercial cleaning company also helps communicate what makes North Country Janitorial the right choice for so many businesses in Albany, Saratoga Springs, Glens Falls, and beyond. From their long-standing history (highlighted prominently at the top of the site) to their "Best of the Region" awards (featured across the bottom of the page), these special elements help reinforce the company's unique selling points while giving potential customers additional reasons to feel confident in considering North Country Janitorial for their cleaning needs.