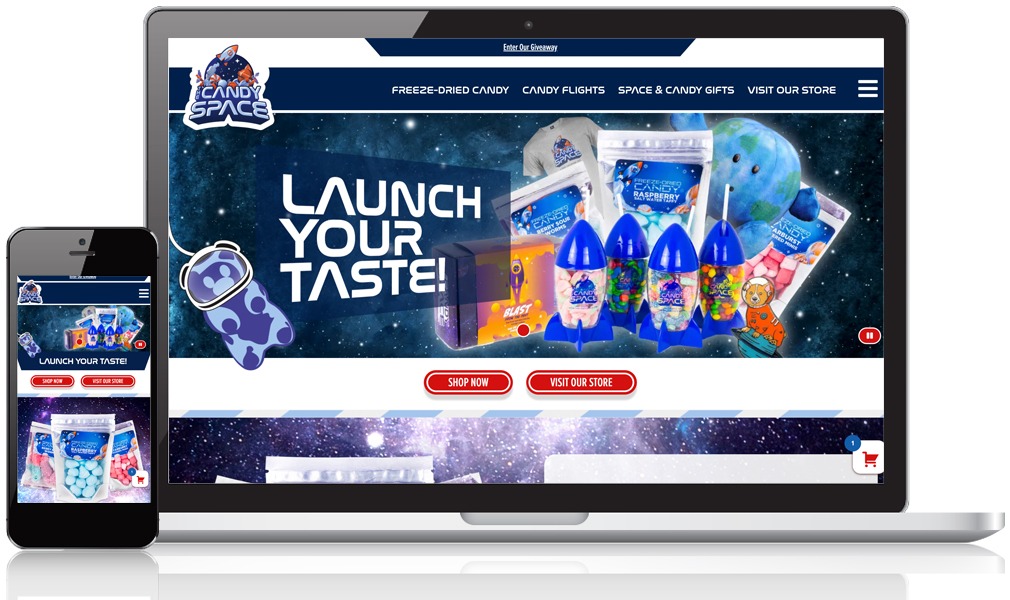 The Candy Space Launches The Hottest Store on the Planet
This is our 3rd project with Chad, one of two creative geniuses. who launched The Candy Space in Lake George.  The project launched in two phases.  First the retail brick and mortar store and later we added an eCommerce online shopping destination for candy lovers and future astronomers.  The store is not like any other store, it's a destination experience where space lovers can watch their candy "launch" into space before purchasing.  Our creative director had a lot of fun designing floating teddy bears.  Lake George is a seasonal destination, with some slow months in the off-season, so Chad came to Mannix Marketing for our expertise in SEO or search engine optimization.
The Results
100% Instant Retail Success Story
500K Impressions on Giveaway Promotion
50K Entries for Giveaway
Mannix Marketing has now developed three of my sites and they are quite simply the best I've ever worked with. Every single step, from the initial agreement, through the design process, to the execution, to the training period, and now the upkeep – it's all top-notch. They are extremely skilled and everyone I've spoken with on their staff has been exceedingly courteous and helpful. I very highly recommend Mannix Marketing.
Chad Rabinovitz | The Candy Space