Just starting out on a blog? Need advice and a clear strategy to generate more interest and traffic?
Below are 7 tips I have learned that can help you create and maintain a successful blog. I have many more ideas on the topic, so I will write a follow-up post in the upcoming days so stay tuned. Please share your blog secrets and tips with me too. I would love to hear them!
1. Have a Clear Topic
Before you even begin to jump into the 'blog circuit', put together a road-map of what you feel your blog will be all about. Have a clear direction in your mind before you begin – A) What is your Topic, B) What are your Categories and C) What would be some of your posts in your Categories). (see map below courtesy of ProBlogger) The best blogs have a specific focus that really connects with a specific target audience. If you fill out the map, you will already have pre-planned a large chunk of your initial blog posts! Also, keep a list of 10-20 post ideas you want to write about so you never get stumped. View the map after the jump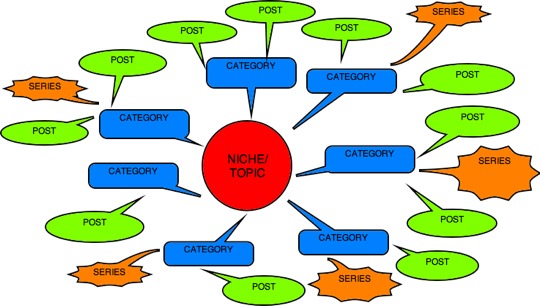 2. Word Of Mouth
Okay, so you have a new blog. You have added some new content and have a clear direction. Now it is time to get the word out! Tell all your friends you have a new blog – send them the link and ask them to comment on your posts. This will usually trigger other people to comment on the blog. Do you have any Social media accounts like Facebook,  Twitter or LinkedIn? Feed your blog posts out to these social media networks for instant exposure! Another effective method of blog awareness is connecting with your audience. Search for other blogs that are similar topics to yours. Comment on their blog posts. Share your blog with them. Visitors to their blogs can also see your comments and would then know about your blog. Start up a conversation with people. This is really the nuts of bolts to blogging – sharing your knowledge with others who are interested in the same topics as you! Tip: Add a link to your blog in your Email Signature.
3. Check Your Blog
Another crucial (and probably most important) element to a successful blog is freshness. How many times have you clicked on a blog and haven't seen a new post in weeks? When I see a stale blog, I am out of there! Keep your blog up to date and see what commenters are saying. If you know you are going to be away for a bit, write a handful of blog posts and spread out the date for when they will publish. This will at least give the illusion that you are posting consistently, even if you wrote them all in one batch. When appropriate, strike up a conversation with your commenters. Keep track of what posts are generating the most buzz, and hone in on that topic. Blogs to bloggers are like Lays Potato Chips to Salt Lovers – once you pick a topic of interest, they just can't get enough! Use this momentum to your advantage!
4. Know Your Audience
One of the great things about blogs are they are digestible. Easy to read snippets loaded with advice, fun things, pictures, videos, tips, articles, you name it. Definitely know the audience you are talking to – but the culture of blogs is much more casual than writing a white-paper article. Keep it light, but engaging. And most important: keep it unique! Offer your readers something they cant read on another blog!
5. Keep Interest Levels Up – "The Big Tease"
ProBlogger had a great post about how to find new subscribers to the blog and the answer made complete sense: create a sense of anticipation! In a blog post on Monday, mention that later in the week you are going to blog about XYZ.  In that later post, mention that you are going to do a follow-up to this post next week.
6. Blogetization? Show Me the Money!
Once you have your blog rocking and rolling, with lots of content, lots of commenters and lots of traffic, you can start looking for potential ways to generate some revenue off of your blog. Consider national ad affiliates like AdsDaq, Google AdSense ads, display advertising. The key to successful blogetization (this is my newly coined term for monetizing your blog) is you have to be patient! You aren't going to see money pouring in when you first start out! It takes time and a lot of energy to get a blog rolling and generate the kind of traffic that advertisers are looking for. Keep this in mind before you go out there and try to sell ad spots.
7. Think Outside the Blog…
Interested in getting more commenters? Why not offer a reward to get them to comment? This is exactly what one blogger did. The result? Success! Read the mini case-study below:
Downtown Susie Brown is a blogger that talks about shopping in Saratoga Springs. For hundreds of blogs, she talked about her great fashion finds at local downtown Saratoga shops. After generating interest and a lot of free plugs to these businesses, Susie approached these businesses asking if she could get an item donated for a giveaway she was going to be running on her blog. In return, they get added press via a byline. How would readers win the giveaway? All readers that commented on the story would get entered to win! The results of the giveaway would then be announced in a blog post a couple days later. Did it work? YES! Comments jumped from 1-2 per day to close to 40 – and her blog was only live for a couple of months! Not only did she get new subscribers, she also gained a rapoire with a potential advertiser down the line and like #5 on the list suggests, she also teased them to have to come back to the blog later on to see if they had won!