The Google Ten Pack is considered "prime real estate". But what is it that those ten sites have that your site might not have? Today we'll explore some simple changes that will help catapult your site into this section. If these simple changes don't do the trick, give us a call and we can provide a deeper analysis for you.
In this image, you can see where the Ten Pack is located on the Google Search Results Page. If your site is not listed, it is worth the effort to make some adjustments to your Google Local account to try to get it there.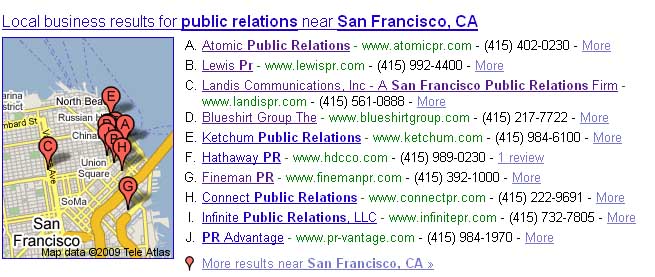 First things first. You need a Google Local account. Click here to set one up. If you already have an account, here are some TOP items to check and adjust:
A. Your Title. By adding keywords in your Title, you are placing yourself at an advantage. You are instructed to use the legal name of your business, so definitely use it, But it is perfectly fine to add some keywords in this field as well.
B. Your Description. By adding keywords within your description, you are building your credibility.
C. Your actual location. Your actual location in relation to what Google considers the centroid of the city will play a part in where you are placed within the Ten Pack. Although this is not something you can modify (unless you want to move your business), you should be aware that this is taken into consideration.
D. Reviews. I highly suggest getting some reviews posted.
E. Google Map. Although you may not find this tip very often in other blogs, I recommend adding a Google Map to your directions page. If you don't have a directions page, add one! … and then add a Google Map to it.
F. Utilize all Features. There is room for 10 images – add them! There is room for a video – add one! Answer all the questions and make your account as complete as possible.
Try these tips to either get your site included in the Ten Pack or to increase your existing placement within the Ten Pack. Should you need additional assistance, please give Mannix Marketing, Inc. a call! One of our highly trained SEO Specialists will be glad to assist you further.