It's officially summer! For many of us in the tourism industry, that means our busiest season is in full swing. Although you're likely juggling a packed schedule of work demands and other obligations, there's one more thing you should put on your summer to-do list: planning your business's fall marketing strategy.
It may seem crazy to start thinking about marketing for fall when summer has just started, but if you want to have the best chance at attracting customers in September, it pays off to put in some extra work in June and July.
Below are five simple things you can start thinking about this summer to set your business up for a successful fall.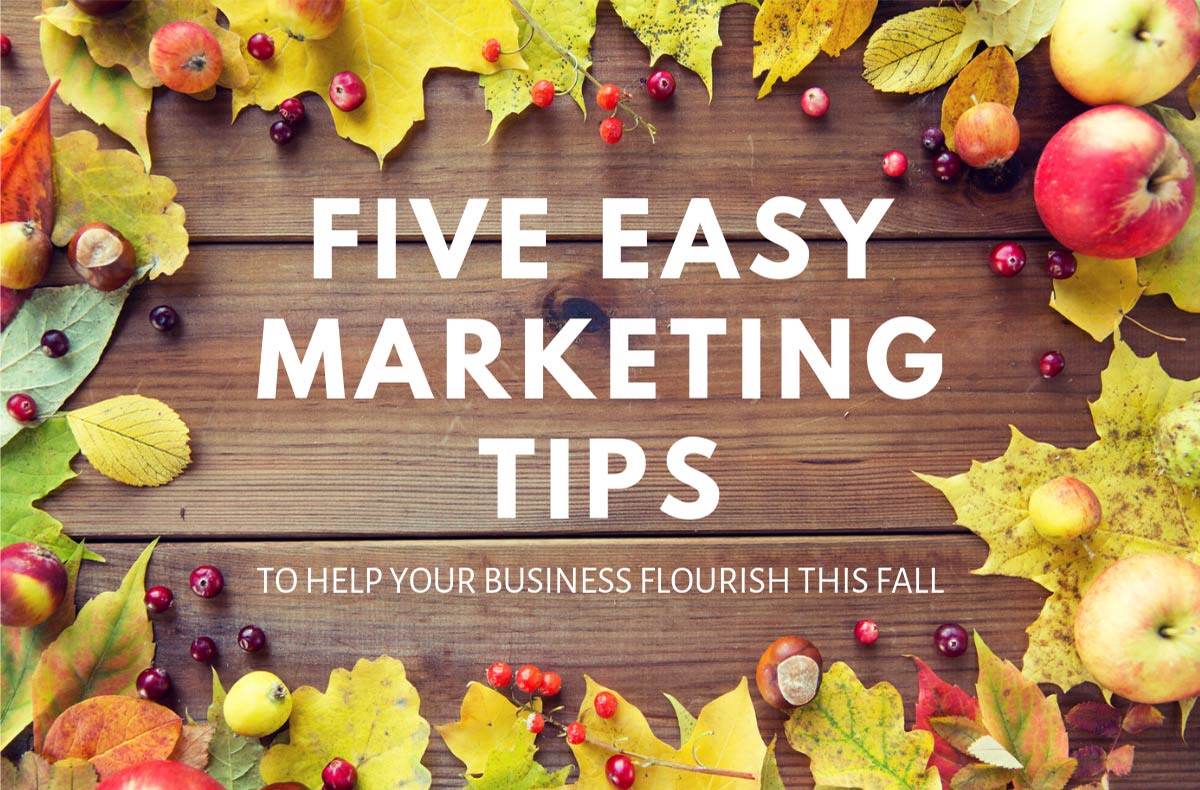 1. Make Sure Your Business Has Seasonally Relevant Imagery
When potential customers are researching your business, they'll want to see photos that represent what it will look like when they're visiting. This applies to all four seasons. Go through your photos this summer and categorize them by season. If you're realizing that your fall photos are lacking, now is the time to schedule a professional photo shoot so you'll have a stock of great images to draw from later this fall and in years to come.
PRO TIP: People LOVE images of fall foliage, so if you can capture the exterior of your business surrounded by brightly colored leaves, you'll have a great chance at grabbing peoples' attention, gaining traction on social media, and increasing your brand's reach.
2. Create Specials To Attract Customers
The competition for customers can be more intense in the fall as businesses are vying for attention from a smaller pool of consumers than there is in the summer. One way to outshine your competitors is to create and promote specials designed to convince people to visit you after Labor Day. These types of deals lend themselves well to lodging properties that can offer discounted rates to attract customers who might otherwise shy away from taking an autumn getaway.
Specials don't have to be limited to lodging properties, though. Landscaping companies could offer discounts on raking and leaf removal; restaurants could create prix fixe menus with fall-centric dishes; and shops could offer steep discounts on their remaining summer inventories.
3. Target Your Advertising Strategy & Get Found For Fall
If your business isn't directly related to fall – think pumpkin patches, corn mazes, apple orchards, etc. – you'll want to strategically place your business next to those that are. If you own a restaurant, for example, putting a display ad on a page about corn mazes makes sense – people will need to eat after they're done at the maze, right?
Our Fall Guides on regional websites like Saratoga.com, LakeGeorge.com, and Adirondack.net attract families looking for fall activities, leaf peepers who want to book their lodging, and foodies seeking in-season treats. If your business is looking to attract these types of customers, you may want to consider advertising within those guides.
If you decide to go this route, you'll want to lock in your fall advertising zones this summer to make sure you don't run into spaces being sold out come fall. People typically start searching for fall activities and attractions in August, so it doesn't hurt to get your fall ads going in mid-late summer.
4. Run A Giveaway To Keep Your Brand Top-Of-Mind
As people adjust into fall after the excitement of summer, it can be easy for them to get caught up in the routine of everyday life. One way to keep your brand top-of-mind, even as other priorities start to come to the forefront, is to run a giveaway.
The prize doesn't have to be big, but it should be enticing enough so that people want to enter as many times as they can. Plan social media and email marketing promotions surrounding the giveaway, and make sure you run it long enough to drum up as much buzz as possible. When the giveaway is over, you'll have an expanded email list from all the new opt-in subscribers you've received, and you'll be able to target these new customers through the channels of your choice.
Not sure how to go about hosting a giveaway? We have giveaways running constantly on our regional websites, like LakeGeorge.com and Saratoga.com, and would be happy to host yours too.
5. Develop & Maintain A Strong Email & Social Media Marketing Plan
If your business is having a particularly strong summer, you can't rely on that fact to allow you to coast into the fall. It's important that you plan out your email and social media marketing plans and stay on top of them through the summer and fall. If your effort in these areas drops as summer continues, you can expect your fall business to drop too.
Calendars are a great way to plan campaigns in advance and also to keep yourself accountable. You'll be able to see what's coming down the line, schedule content in advance so you can enjoy your summer vacation, and move things around if priority promotions or immediate marketing needs pop up.
We'll leave you with one more reminder about the importance of good photography – if you have a stock of fantastic photos to pull from, it makes it much easier to plot out your marketing calendar and also improves your campaigns' potential for success.
Interested in learning how we can help your business have an outstanding fall season? Contact Mannix Marketing today to talk to one of our digital marketing strategists. If you book your fall advertising before August 15, 2019, you can get 25% off display ads and giveaways!