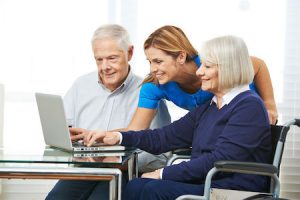 With the shift in baby boomers from working to retirement, senior living solutions are in high demand!
In this day and age, individuals looking for assisted living and senior communities – and the family members helping them to find an appropriate place to live – tend to research thoroughly before making a decision. And, with more and more senior living communities being built – from basic communities to assisted living, to nursing homes and specialized care facilities – they have many options to research and review.
Senior Living Community Marketing
Because of this shift in our population and the vast number of senior living solutions to choose from, senior living communities today need to do an even better job of marketing themselves. They need to showcase the variety of amenities, strengths, and overall quality they offer.
One of the first and easiest steps for those researching senior living community options is to search online. This means that many potential residents and their families will glean their first impression of your senior living facility based on the look, feel, and language offered on your senior living community website.
As such, you want to be sure that your website portrays your community accurately and exudes the warmth, friendliness, and compassion of your facility. You want to showcase the features and amenities that will set you apart and make it appealing to the potential residents and family members considering you as an option.
So how do you ensure that your website truly embodies your senior living community? What does a successful senior living website look like?
To help answer that question, we've put together a list of 7 essential senior living website features based on successful senior living community websites!
Essential Features of Successful Senior Living Community Websites
1. Showcase Location, Location, Location
Balfour Care, located in beautiful Colorado, offers several communities. With website pages dedicated to each location they do a nice job holding the common theme together and keeping with the branding of the company while showcasing what each location has to offer.
Each location page showcases what's unique about the specific community it features, which helps users to more easily determine which community is the best fit for them.
2. Blog
The Ashford Senior Living Communities in Ohio have a blog on their website that features articles on a variety of topics relevant to seniors and their caregivers. We've seen this feature on many other successful senior living websites as well.
Blogs can be a great resource, both for providing information that's relevant to members of the community and showcasing what life's truly like there for potential new residents and their families. They can also show that the staff at the community is knowledgeable and in-tune with the needs and issues that apply to the residents they serve, which can be comforting as consumers are searching for a senior living solution.
3. Photos & Imagery
The 'LLima at Leihano senior living website has so many great qualities, but the images and "spirit" are our focus here. The photos are bright, lively, welcoming, beautiful, and the text that goes along with them is clear and concise so you can find what you need. The people featured on the website look happy, and the selected images do a good job of showcasing that family visits are welcome and that this senior living facility is a "community," not just a "home."
4. Details, Details, Details
Luxury living at Renaissance in Arizona offers beautiful images and a break out of the living details for members. Right at the top of the clear navigation you see a designated tab for Residents. With one click you can view the senior residence calendars and a map of nearby local spots – from post offices and grocery stores to banks and hospitals. This site makes it easy to understand just how much the community has to offer.
While these details are important for current residents and their family members, they can also influence the decisions of those who may be deciding whether or not they are interested in the community.
5. Trust Symbols
Mountain Park, located in beautiful Phoenix, Arizona with amazing temperatures, sunshine and clear skies seems like a nice place to be. With that said, there are A LOT of senior living options in Arizona. So how do the best senior living facilities make sure they're the choice? Trust.
Mountain Park's senior living website shows trust. They don't have to write a big blog about why you can trust them (qualities or offerings) because they show trust on their site. (We aren't saying they shouldn't write something regarding their qualities… but showing rather than telling helps.) The homepage touts that they received "Best Senior Living" communities' awards four years in a row as well as the Caring Star Community Award in 2018. They are ranked top 10 senior housing operators in the US. For website visitors, these highlights show that this senior living community is worthy of trust and worth taking a closer look at.
6. Chat Feature
West Hills Village in Portland, Oregon offers a nice pop up chat window on their website. Although these can be annoying at times, there is a real value in using them the right way.
When set up correctly and managed properly, these chat features can help answer quick questions for someone who may be on the fence about a decision but has a few simple queries remaining. They can also provide an easy way for a potential resident to get in touch with you immediately, which can make you more accessible and help to set your community apart from your competitors. Live chat can be a great way for senior living communities to begin establishing a relationship with potential residents before they even set foot on the property.
7. Modern Layout with Snapshot of Qualities
Eddy Senior Living offers several locations around the Capital Region of New York State. The site was developed using modern layouts featuring ample breathing room around the content to give visitors a snapshot of the many senior living communities.
The call to actions – find a community, request information, learn more, contact us – are clear and to the point. Want to request more information? No problem, click here or here. Easy to find and easy to do!
This site has many of the qualities we mention above, which help to entice people to learn more and ultimately choose them. It is a clean, vibrant and happy site with relatable photos, easy navigation, and senior living options and amenities front and center.
Help Potential Clients Choose YOU As The Best Senior Living Option
Choosing the right senior community for yourself or a loved one can be difficult. The senior living communities that exhibit their good qualities and have created an online presence that truly helps guide people through the process of deciding what's right for them tend to be the ones with the most successful websites.
Are you a quality senior living community that needs help with your website?
Do you struggle to fill your senior housing even though you know what you're offering is in high demand?
At Mannix Marketing, we have experience working with a number of senior living communities. We know what it takes to help you stand apart from the rest.
Let us help you build a successful, search-engine and user-friendly website, or work with you to develop a marketing strategy that can help you truly showcase all your senior living community has to offer!
Interested in learning more about how to successfully marketing your senior living community online? Give us a call today at 518-743-9424 or contact us online to get the conversation started!