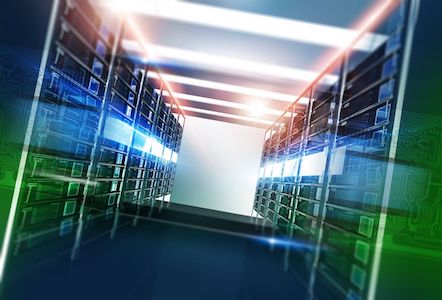 Is your website WordPress website hosted with GoDaddy? If so, you may want to reconsider your web-hosting partner.
After a client's GoDaddy hosted website was hacked and GoDaddy's internal support was disobliging, it reminded us that not all website hosting is created equal.
Mannix Marketing offers quality SEO-optimized web hosting with fast servers, 24/7 support, and a knowledgeable staff. But before we get into that, let's give you a little background into what sparked this conversation…
A Client's GoDaddy Website Gets Hacked
A few months ago, Mannix Marketing had an SEO client who had recently switched their web hosting to GoDaddy. While working on the account, one of our digital marketing strategists noticed something rather odd about the website's sitemap while reviewing their Google Analytics account: the site had under 100 web pages, however Google Analytics was showing a sitemap of over 1 million pages! This was a sure sign that our client's website had been hacked.
This type of hack is known as the Japanese Keyword Hack, which essentially means a hacker indexed a bunch of Japanese spam web pages onto the site so that search engines would rank the spam pages, while tanking the rankings of the actual pages.
The tricky thing about this hack is that to a normal user, the website looks no different; the only reason our digital marketing strategist caught it was through investigating why the organic website traffic had recently showed a downward trend.
With the client out of town, our digital marketing specialist contacted GoDaddy immediately to fix the problem. After three days of inconclusive help and being shuffled from support representative to support representative, GoDaddy finally started cleaning up the site for an additional fee. However, because GoDaddy refused to update the client's PHP, or Hypertext Preprocessor, the client was hacked again this time with a Denial-of-service cyber attack that crashed her site.
Another call to GoDaddy left the client's website in the hands of an uneducated support rep. Luckily, our digital marketing strategist was able to coach the service rep over the phone on how to stop the attack.
In the end, the client left GoDaddy and switched hosting services again. While the hacking situation has been resolved and their website fixed, it could have been prevented.
3 Reasons NOT to Host Your WordPress Website with GoDaddy
With all the advertising GoDaddy does, they are usually top of mind when a small business owner is considering a hosting service. However, while their attractive pricing and promoted "ease of use" lures a lot of businesses in, GoDaddy is often not the best option for our clients, and here's why:
1. It's designed for do-it-yourselfers
Go Daddy can be a great option for web savvy do-it-yourselfers who have the knowledge and ability to manage the technical aspects of website hosting. Unfortunately, many small businesses do not fall under this category.
GoDaddy does not offer a true managed plan like Mannix Marketing does. This means the business owner or their webmaster will need to stay on top of updating plugins regularly and troubleshoot if anything goes wrong. Most business owners aren't even aware of what yearly/quarterly maintenance needs to be done on a site, which means it doesn't get done, leaving their site vulnerable to hackers.
2. There are no set account representatives
If you do happen to have issues with your site, it's hard to get things resolved quickly as you're constantly speaking to new support reps and bringing them up to speed. Often times the person on the other end of the line isn't knowledgeable enough to properly diagnose or help you work through the problem. Getting ahold of the people who do know how to fix your issues is often not easy.
3. There are additional fees and charges galore
GoDaddy hooks customers with their low introductory prices just to upsell them on extra expensive services that are included in comprehensive hosting plans like ours. For example, if your website is receiving more traffic, you need to pay more to increase your bandwidth or else the site will crash. Upgrading to an SSL? That's an extra fee. Need hacking cleanup? Also an extra fee.
Need a Better WordPress Website Hosting Solution?
Mannix Marketing offers comprehensive WordPress web hosting services for clients that offer peace of mind. With us, you'll never have to worry about backing up your website, unhelpful staff, or hidden fees.
Our annual web-hosting plan is a one-stop shop. Our knowledgeable staff is available 24/7 for support all for the low cost of $500/year.
Interested in having Mannix host your WordPress website? Let's talk. Give us a call at  518-743-9424 and we'd be happy to chat with you about our web hosting solutions.