Small & medium businesses have faced many threats over the years. This coronavirus pandemic has only made it more difficult for business owners. With physical stores closed, e-commerce and digital marketing have become crucial for struggling businesses to reconnect with customers.
In response to the COVID-19 crisis, Google has committed to helping small and medium-sized businesses during this challenging time in two major ways:
Opening its Google Shopping platform to include free product listings
Offering current Google Ad customers ad credits
Google Shopping to Include Free Product Listings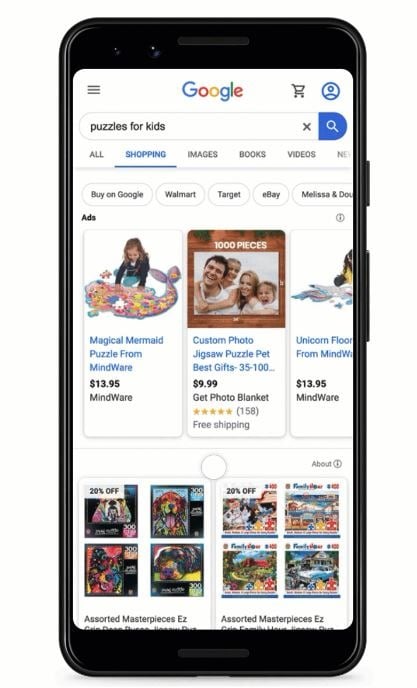 In light of the coronavirus pandemic, Google has advanced its plans to make it free for businesses to sell their goods on Google's shopping platform. Currently the shopping tab only includes paid listings. However, starting at the end of April, the Google Shopping tab will consist of primarily free product listings. Paid listings will appear at the top and bottom of the page, similar to the main search results tab.
Businesses that use PayPal will be able to link their account to Google Merchant Center. This will allow Google to pull in seller details faster and verify merchants. Google has also partnered with many e-commerce platforms to make it easier for businesses to manage their inventory and products. These platforms include Shopify, WooCommerce, and BigCommerce.
How to Take Advantage of Free Product Listings
If you are already running Google Shopping campaigns, all you need to do is opt in to "surfaces across Google" in your Google Merchant Center Account. This will allow free product listings to augment your shopping campaigns. For those that are not running Google Shopping campaigns, you will need to follow the steps below to get started:
Set up Google Merchant Center Account
Create product data feeds
Upload product data feed to Google Merchant Center
Opt in to surfaces across Google
It is important to note that you do not need to run paid ads to be eligible for free product listings. However, you will want to monitor your product feed on a regular basis for disapprovals and errors. Product listings and images will also need to comply with Google shopping policies & Google Merchant Center guidelines in order to be eligible for the free shopping listings. You may also want to consider optimizing your product titles and descriptions to improve your visibility, as these items are what Google will use to determine when and where your listings will show up.
COVID-19 Google Ad Credit
Google announced earlier this month they would be giving $340 million in ad credits to SMB customers worldwide in response to the coronavirus. This one-time ad credit will be rolled out in phases starting in late May and continue over several months. Eligible customers will be notified when their credit hits their account. However, it is important to keep in mind the ad credit will not be applied to past or current ad spend. It can only be used to future Google ad spend across any of its platforms including Search, Display, and YouTube. Credits can be used throughout 2020, but must be used up by December 31st. After that the credit expires and any unused portion will be lost.
Google has not specified how much the ad credit will be for each customer. According to their statement, the total amount will vary by customer, with the amount being determined by past Google Ads spend, and the country and currency the Ad account is set up in.
Qualifying Businesses
In order to be eligible for the Google Ads Credit, you must meet the following criteria:
Be considered by Google as a small or medium sized businesses
Be a current Google Ads customer
Adhere to Google Ad policies
Have an Ads account that spent money in 10 out of 12 months in 2019, plus January and/or February of 2020
Need help taking advantage of shopping product listings or have questions about the Google Ad Credit? Our Google specialists are here to help! Call 518-743-9424 or schedule a free consult now.