We're all hyper-sensititive to the importance of local search via those eye-popping local marker tags in the organic listings – as are our SEO and internet marketing clients. Yet it seems that even the most seasoned SEO's and internet marketing professionals continue to gloss over the why's and how's of the actual results that are appearing – in a seemingly arbitrary fashion – in "Googletime" as I prefer to call it, within the prime real estate of organic search results.
So, yet again Google is the fickle friend. Always there, ready and willing to help, but with just that tiny edge of uncertainty as to how it will behave in front of our other friends! In his recent post, Blended vs. "Pure" Local Search, David Mihm lays out pretty clearly a case for the fact that local search is still in the exploratory stages.
This is big for SEO professionals. Google has been experimenting with these listings (I fall into the "All Of The Above Camp" he talks about) for quite a while now, and the results are still seemingly indiscriminate. Long tail vs. short tail keywords, local intent, channels and categories are all possibilities up for grabs! For instance:   
For "health spas saratoga springs ny", (for which the area is renowned) with 6.3 million search results, there are a number of full-blown, blended local listings: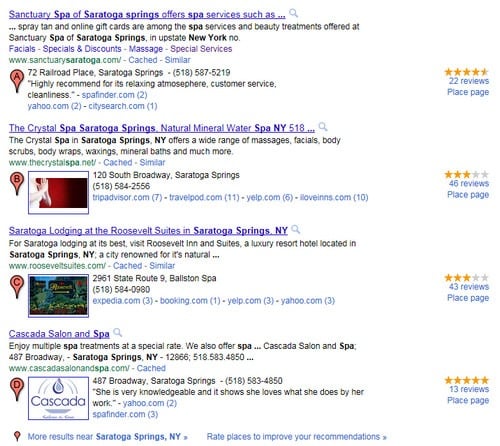 For "theme parks saratoga springs", with 1.5 million search results, (a lesser-known quantity in the Spa City), this is the result:

As far as the "Well-Developed Website Inventory" camp is concerned, it goes without saying that this would be a significant component for all the local results; that is, if Google is continuing to put the experience of the end user first, which has always been their primary stated goal.
The fact remains that Google local search machine continues to be on the rise in a big, big way. All the components are more critical than ever, both for on and off-site optimization, a clear understanding of the importance of social media for connecting to the consumer, and a strong internet marketing plan.
Stay tuned…more to come, no doubt!