With the holidays just around the corner consumers are turning to social media to find the greatest deals, specials, and giveaways. To help your brand capture their attention we're giving away some amazing tips for better promoting your offers via social media. And like any other gift that keeps on giving, you can use these tips throughout the year to optimize your social media marketing!
1. Clear and prominent start-end dates for promotions
Have you ever stumbled upon a mind-blowing deal on Facebook, only to realize at the checkout line that the promotion ended yesterday? It's painful, frustrating, and can conjure up negative feelings towards a company.
Keep customers happy and remain in their good graces inform your followers of sale dates and shipping cut off dates for each holiday.
2. Use product related hash tags in your tweets
Hashtags (#) are a staple to any Twitter marketing campaign. People use hashtags to join in or start a conversation on Twitter about a specific topic. By using relevant hashtags in your tweets, you are increasing the reach of your promotion and ensuring they are going to a qualified audience. A few examples of hashtags would be #videocamera, #candles, #vacation.
3. Share exclusive coupons with your fans
Reciprocity is so important when it comes to social media. We expect to get something in return for what we have given. And let's face it, everyone likes to be reminded that they are special!
So this holiday season take the time to thank people for Liking or Following your company's social media profile with a special offer on their platform of choice.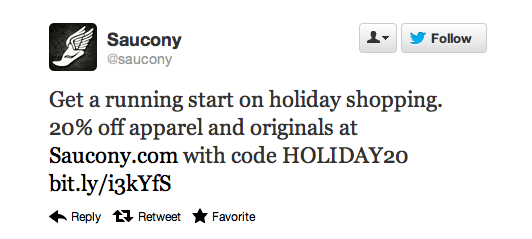 4. Use advertising in combination with special offers or discounts
Advertise a "hot deal" for those who follow you or like your page. Recent research shows that Facebook fans are more likely to buy and recommend the brands they engage with on Facebook than non-fans.
5. Post photos of new products with links to your website
Let's face it- people aren't always able to buy your products on Facebook- they buy things on your website! With a new offering, be sure to include an image of the offer in your posts and link to your website. Once there, people can learn more about the product and move closer to the almighty purchase!
6. Use images to entice the visual consumer
A picture is worth a thousand words. Whether you're selling handmade jewelry, a spa package, or a simple cup of coffee, customers respond to posts with photos more often than those with text alone.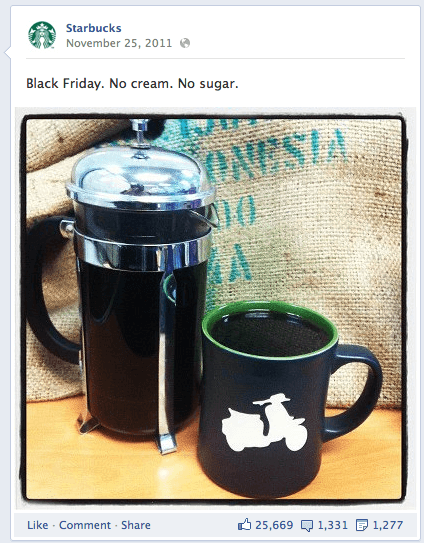 7. Include a call-to-action in your post
Always tell your followers in your posts what you want them to do next. Do you want them to visit your website? Do you want them to come in to the store? Do you just want them to post their opinion on something?

8. Minimize distractions along the path to purchase
To ensure an easy transaction, always include a clear call to action once people have arrived on your landing page. The call-to-action should be short and to the point, and must deliver on what was promised in the promotion. This is one of the key factors for conversion rate optimization.
9. Deck the halls
Update your social media profiles with holiday designs to get everyone in the holiday spirit. From your Facebook cover photo to your Twitter background, there are so many great places to deck the digital halls!
10. Discuss general topics of interests
To create a more personal connection with your followers, don't be afraid to showcase your similar interests, even if it doesn't relate to your product/service.  Post holiday recipes, decorating ideas and trivia. Local businesses should inform their fans of fun things going on in the area. People like to purchase from people they feel like they know!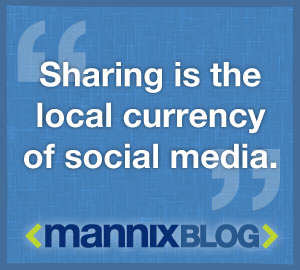 11. Encourage (and reward) sharing
We know your followers all love a good deal, but they also like to share helpful information! And for businesses, sharing is the local currency of social media. For example, a photographer might share ideas on what to wear for your family photo. Consider offering a discount (reward) to those who share your information.
12. Run a contest
Contests are a great way to spread your message beyond your regular followers because entrants will often repost the contest on their own page. Just be sure to read the Facebook Guidelines for promotions.
13. Coming Soon!
Build anticipation by hinting at upcoming specials or deals. An example of an effective sneak-peek promotion would be "Check back at noon for a code to get 20% off your online purchase!"
14. Measure your efforts, tweak if needed, repeat!
Always be testing! This is the only way to know if your posts, tweets, and sharing tactics were effective. Facebook Insights is an invaluable tool for measuring the effectiveness of your Facebook promotions.
Let's Hear Your Thoughts
What are your favorite ways to promote your products or services via social media during the holidays? We would love to hear your thoughts in the comment section below!
To receive a custom social media strategy for your company, request a free consultation with one of our social media specialists today!