Remember earlier this week, we told you we were on the shortlist for the US Search Awards? Well we are proud to tell you today that WE WON! Below is a picture of us celebrating at the awards ceremony, and press release to announce the good news. Please feel free to share in our excitement!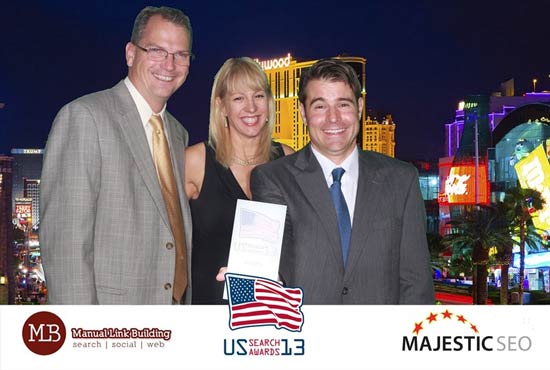 Mannix Marketing Wins 'Best Use Of Search – Retail' Category In 2013 US Search Awards
GLENS FALLS NY – Mannix Marketing, Inc, a Glens Falls NY based internet marketing company, was named a winner at the 2013 US Search Awards at an awards ceremony in Las Vegas on Wednesday evening, October 23. Mannix Marketing was announced the winner of the "Best Use Of Search – Retail" category for their work with Atlantic British and their website RoverParts.com.
"We are so honored to have been named the best of the best in the digital marketing industry," said Sara Mannix, Founder and CEO of Mannix Marketing. "Atlantic British is one of our oldest clients, and we couldn't be happier with the success of their website and the recognition this distinction has brought both of us."
The shortlist of finalists for the US Search Awards was posted earlier this week where Mannix Marketing was named among the top four finalists in their category. Representatives from both Mannix Marketing and their client Atlantic British attended the awards ceremony in Las Vegas Wednesday evening to witness first hand the announcement of the winners across 20 categories.
The finalists and winners for the US Search Awards were determined by a judging panel comprised of industry leaders. By having named Mannix Marketing a winner, the judges recognized them as a leader in the national digital marketing arena, acknowledging the hard work and level of expertise the company dedicates to clients like Atlantic British.
Brian McGrath is the SEO Specialist at Mannix Marketing who handles the optimization of the Atlantic British website. Mannix Marketing SEO Specialist Bill Bouchard also laid the groundwork for the initial optimization of the site. The hard work of these two local individuals has paid off with this national recognition for a job well done. The two worked closely with Atlantic British's SEO in-house Marketing Director Chris Bartow whose marketing genius and team work contributed to the excellent organic search results.
This is the first year of these industry awards in the United States after a successful launch of the awards in the UK and Europe. A description on the associated website notes that the US Search Awards are "delivered in association with Pubcon Las Vegas and our joint headline sponsors Manual Link Building and Majestic SEO. The awards are also supported by SEMPO and will recognise and reward organisations, agencies and individuals based or working in the USA search and digital marketing industry." Learn more about the US Search Awards and view a list of all the winners.
Congratulations is also due to Overit Media, another local digital marketing company who also won in their respective category "Best Integrated Campaign" for their "KnowTheOdds" campaign with New York Council on Problem Gambling. For two local companies to be named among the Top 20 Digital Marketing Companies Nationwide, this is great news for the Capital Region!
About Mannix Marketing, Inc.
Mannix Marketing, Inc. is a woman-owned, full-service internet marketing company based in Glens Falls NY, specializing in making businesses found on the web. The company offers search engine optimization, social media optimization, mobile marketing, web site design, hosting, database-driven content, and tourism marketing. Mannix Marketing owns and operates 28 regional online guides, including Saratoga.com, Albany.com, LakeGeorge.com, Adirondack.net, CliftonPark.com and GlensFallsRegion.com, which receive over 16 million site visits a year.
Please comment below to wish us congratulations and let us know you were rooting for us!