Ok, so you don't have to employ video search engine optimization as part of your SEO arsenal. But the stark reality is, you absolutely should.
Video is an incredibly powerful medium online. Let's face it – you already know that everybody and their brother is posting to YouTube. From favorite TV clips to hair coloring how-to's, to music videos made by hopeful teenagers with guitars and a dream in every country across the world…this is definitely the 'final frontier' in an internet search. Whether you're just getting started or have a brand new website design under your belt, if your business isn't part of the world's 3rd largest search engine, you're missing out on one of the best internet marketing tools available! If it's not optimized for search, it's also NOT optimized to be accessible based on the ADA Guidelines. If you don't optimize your videos by providing a full script, quality descriptions and closed captioning, you may find yourself in trouble.
Does it really work? Enter those iconic home-made "Will It Blend" videos created with about 50 bucks and a brilliant idea by Blendtec. Yeah, it works:

Video has come a long way. Creating a unique and informative video for your website can take any number of paths, from funny to elegant, intentionally hokey or completely professional and polished. The fact is, Google puts forth a prime piece of real estate for videos. For instance, a search for a popular regional musician and performer, Rich Ortiz, returns these results: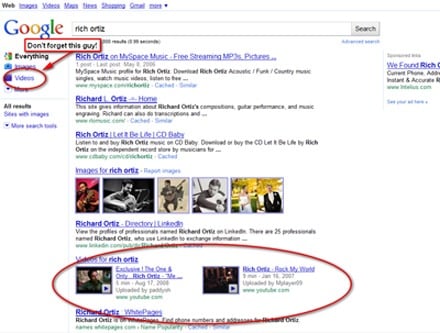 Nice for Rich, eh? Organic results, images, and video all in one handy dandy little Google package!
You can get the same type of results for your company or small business website! Take advantage of the availability of video space and get started. Whether you use the services of a professional videographer as we did to highlight these SEO Case Studies, or dust off your webcam or cell phone and get to work!
Taking and loading the video is one thing, but skilled video search engine optimization will get you found.
Upload your video to YouTube and embed on your website
Create and submit a Google Video Sitemap
Set up a full transcript of the video
Utilize search engine positioning strategies SEO 101 strategies on the page
If your video is short, transcribe it yourself and use the text for SEO. If it's really long (try not to do that!) there are commercial transcription services you can employ to assist you.
You can learn more about VSEO here. Have fun…see you on YouTube!