So you've got a great new video for your website, right? There are still some steps you must take to fully optimize that video and generate the clicks you want.
Many businesses overlook the importance of developing a video sitemap for their website and do not invest in more sophisticated video hosting (sorry YouTube, you didn't make the cut).
Without these two factors, your website's videos will be nothing more than decoration.
Let's break down the two important aspects to making your videos work harder for you.
Video Sitemaps
Creating a video sitemap for your website is extremely important in helping your videos get found on the web.
A video sitemap will tell Google to index the videos on your website. When your videos are indexed, they will appear in the search results with your company's URL, directing views right to your page!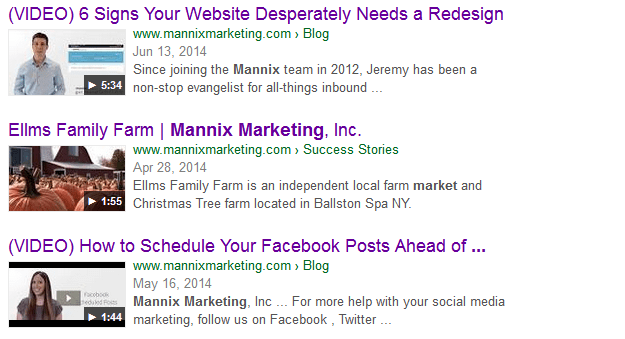 Even if you only have one or two videos on your site, you will get more bang for your buck by creating a video sitemap that drives traffic from the search results directly to your website.
You can embed videos into your website and see an increase in engagement and a decrease in bounce rates for a particular page, but you are missing a great opportunity to increase your organic search results.
Discuss adding a video sitemap with your webmaster and what options you have for video hosting.
Video Hosting
Many small business owners host their videos on YouTube because it's free, easy to use, and may seem like the only option available. Videos hosted on YouTube will appear in search results, but these videos will not direct traffic to your website- instead, they bring searchers to your video on YouTube.
Fortunately, there are some great alternatives to YouTube for hosting your videos.
Both Vimeo and Wistia, for example, allow you to create video sitemaps in conjunction with your website and add the appropriate schema markup. In turn, these techniques can help your videos stand out in the search results and open the door to attracting people straight to your website.
Services such as Vimeo and Wistia do have bandwidth limitations on their free accounts, which limits the number of views per month. If you want more bandwidth and other benefits, then you may want to consider upgrading to a paid account.
If you have any questions about video, give us a call! 518-743-9424.