One of the first questions companies ask when considering an SEO program is: What is this thing called 'Search Engine Optimization?' In this article I'll explain what SEO is and why companies large and small need it to get found by today's buyers and attract more leads from the web.
SEO: Will the Modern Buyer Find Your Business?
Search Engine Optimization (SEO) is the process of improving your website's visibility in the organic (unpaid) search engine results.
The goal of SEO is to help buyers find your website, get the information they need, and then take the next step in the purchasing process (for example: requesting more information, downloading a special offer, calling your business, etc.).
Today, 90% of buyers use the web to find information about different products, services and businesses. In fact, most buyers complete anywhere from 60-90% of the buying process by the time they contact a business. This means they're taking the buying process into their own hands by going online to gather information and determine which companies they might might to work with or buy from.
When a person visits a search engine and types in a "keyword" or search phrase to find a product, service or local business, search engines return a list of websites that best match the searcher's keyword or search phrase: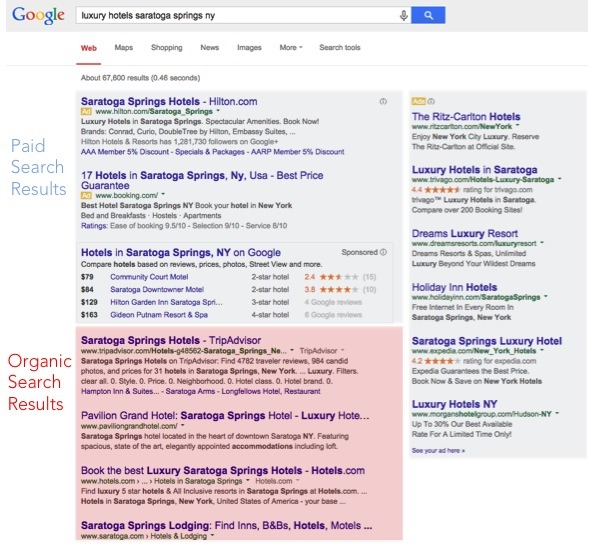 Search Engine Optimization is designed to build up your rankings and long-term presence in the organic search results- where over 80% of users click.
With a "paid search advertising" program such as Google Adwords, on the other hand, your listings appear in the paid search results and will stop showing up as soon as your daily advertising budget runs out.
While it's common for companies to think that SEO is just about optimizing their website for search engines, your focus should be to create a website that offers a user-friendly experience for the end-user (i.e. humans), yet is structured in such a way that makes it easy for search engines to understand.
Of course, if you have a website with great information but it's not optimized to show up in the search results then your website may never get found by potential customers.
What are the Factors that can Grow My Rankings, Traffic, and Leads?
Search engines like Google try to provide users with the best possible content from around the web by ranking websites based on an algorithm that's made up of over 200 factors and is constantly being updated. Without getting into too much detail, we'll touch upon just a few of the many factors that can affect your company's rankings, traffic, and leads.
Keywords: Keywords refer to the phrases that people type into the search engines to find your products or services. One of the first steps we take when crafting an SEO program is researching the different keywords or phrases that your buyers would use to find your products or services online. Selecting the proper keywords and then incorporating them into the appropriate places on your website (in such a way that's easy for search engines to understand) can have a major influence on your visibility.
Unique, High-Quality Content: Content is the information on your website that you're providing to visitors, including the text copy, photos, videos, menus, brochures, and special offers (e.g. whitepapers, eBooks, guides, etc.). Not surprisingly, search engines recommend creating an information rich website with unique content, as high-quality, original content is what attracts visitors to your website, helps to educate shoppers, positions your business as an authority in your industry, and can help you convert more visitors into leads.
Inbound Links: An inbound link is a link from one website that points back to your website. Search engines use inbound links as a signal to determine which websites are referencing the content on your website (think of links as a "vote of credibility"). Of course, not all links are created equal, as having low-quality, spammy links pointed at your website can easily get your website penalized by the search engines (sometimes resulting in decreased rankings or temporary bans from the search results).
Obviously, there's a long list of other factors both on and off of your website that can impact your website's rankings, attract more shoppers to your website, and convert those visitors into leads. If you're trying to find the best SEO company, then these are just a few of the many things they should be addressing over the course of your SEO program.
How Long Does It take to Start Seeing Results
I get it- you're in a rush and need more traffic today! But I'm going to let you in on one of the things that most SEO companies don't tell businesses: it can take several months to properly optimize a website so that it starts to rank higher in the organic search results, attracts more qualified visitors to your website, and converts those visitors into leads.
There are a number of factors that influence how long it might take to start seeing results from an SEO program. Some of these factors can include (but are not limited to):
The competitiveness of the keywords you're targeting
Your company's goals
The state of your existing website
How often your website is being updated with quality content
Changes to the search engine ranking algorithm
The quality of the SEO company you've hired to help improve your visibility, traffic, and leads
One of the biggest misconceptions about SEO is believing that your website can magically jump to page 1 overnight. Unfortunately, growing your rankings for a specific keyword can take time, but the benefit of creating a search engine-friendly website that provides a great experience for users is that your website is more likely to continue getting found over time.
After your website's rankings start to increase, you should begin noticing changes in the traffic to your website. As your website's traffic begins to grow, so too should the number of leads that you're getting through your website.
Does My Company Need Search Engine Optimization?
Does your company have all the leads and customers you will ever need? If you answered "no," then you absolutely need SEO so you can continue growing your website's rankings in the search results and get found when shoppers search online for the products and services you sell.
If you're interested in improving your rankings in the search engines, attracting more shoppers to your website, and getting more leads from the web, then contact Mannix Marketing today to request your free SEO consultation and discover the SEO program that's right for you.