If you're considering a new website for your hotel or resort then you're probably wondering: "How much does a new website design cost for hotels?" While there are many factors that impact the cost of creating a new website, the purpose of this article is to provide some general website pricing information as you start planning a new website for your hotel or resort.
Website Design Factors for Hotels and Resorts
With the ever-changing planning habits of today's travelers your hotel's website needs to stay up-to-date so you can reach potential guests throughout the travel planning process. While every hotel website design agency has their own standards when it comes to creating new websites, this article will give you some insight as to what factors we at Mannix Marketing consider to be essential for creating successful hotel, resort, and lodging websites, and ultimately influence our pricing for website design and development services.
Basic Search Engine Optimization: Will Travelers Find Your Website in the Search Results?
Whether you're planning a trip to Florida or Saratoga Springs, where would you go to find hotels? If you start by visiting a search engine like Google or Bing then you're not alone- nearly 60% of travelers use a search engine to start planning their trip (source: Ipsos MediaCT/Google Travel Study).
As more travelers use the web to find accommodations the value of getting found in the search engines continues to grow for hotel and resort property owners. As 85% of searchers click on the organic (unpaid) search results, if you website doesn't have the proper Search Engine Optimization (SEO) then potential guests may never find your gorgeous new website.
Since 1996 we've been helping hotels and resorts climb to the top of the search results. To give your hotel a better chance of showing up in the organic search results we include the basic elements of SEO on your new website during the website design and development process.
This is one of the biggest factors that sets Mannix Marketing websites apart from other website design agencies as our SEO specialists are trained to apply these critical SEO techniques to every new website. Some of the basic factors that we apply include (but are not necessarily limited to):
Researching the keywords travelers may use to find your property in the search engines
Creating search engine-friendly meta data on the pages of your new website
Retaining the SEO "value" from your previous website (when applicable)
Setting up the code in such a way that lets your website load faster on desktop and mobile devices
You could end up spending several hundred to several thousand dollars on these basic SEO techniques when you decide to start an SEO program down the road (either after your new website goes live or just before the upcoming season). However, by the time that SEO program begins you'll have likely missed out on new travelers, inquiries, and potential bookings.
If you want to start filling your beds then you need to start getting found online.
Custom Design: Is Your Website User-Friendly?
Your website is often the first interaction travelers have with your hotel as they go online to compare different resort and lodging options. And because travelers are in a hurry, your website has just a few seconds to capture their attention, communicate your value, and help them find the information they need to make a booking decision.
Do you want a simple cookie-cutter website, or do you want a website that lets travelers instantly know they're on your hotel's website?
The first option describes a template ("pre-designed" theme) website. Template websites cost less to create than custom websites because the design has already been created. When you get a quote from one website design agency that's much cheaper than quotes from competing firms it's usually because the cheaper company plans on using a template for your new website.
On the other hand, a custom designed website is one that is designed from the ground-up to reflect your brand's image, personality, and unique selling points. Since a professional designer will be creating your new website from a blank canvas, you're paying for their expertise in web design.
At Mannix Marketing we specialize in creating custom designed websites for hotels and resorts. Our designers transform the uniqueness of your property and what you want travelers to do on your website into a one-of-a-kind design that uses special features intended to drive more booking inquiries. From selecting the appropriate color scheme to the placement of your booking engine form to the design of your calls-to-action, a custom design does increase the cost of creating a new website but is certain to give your hotel a more professional and effective online presence.
Responsive Design: Is Your Website Mobile-Friendly?
Can travelers quickly and easily find your rates? Can they browse your room options? Can they find your contact information?
Can they do all of this from their smartphone?
With over 50% of travelers using mobile devices such as tablets and smartphones to plan their trip, your website must be easy-to-use across different screens and devices. At Mannix Marketing we create hotel websites with responsive design. This means you'll have one website that automatically adjusts to fit desktop, tablet, and smartphone screen sizes, and allows travelers to interact with your website across devices.
Page Layouts
Whether you need a photo gallery to display stunning images of your rooms or a special listing to display your various accommodations, the way your content is displayed on a webpage is defined by the page "layout."
Most hotel websites have a unique layout that's been created for the home page and one additional layout that's been created for the other pages on the website.
Depending on the features of your property, sometimes it makes sense to create additional page layouts. For example, an additional layout may be created to display your rooms or lodging options in a visually appealing manner, as shown in the example below on the custom designed website for Courtyard by Marriott Lake Placid (client):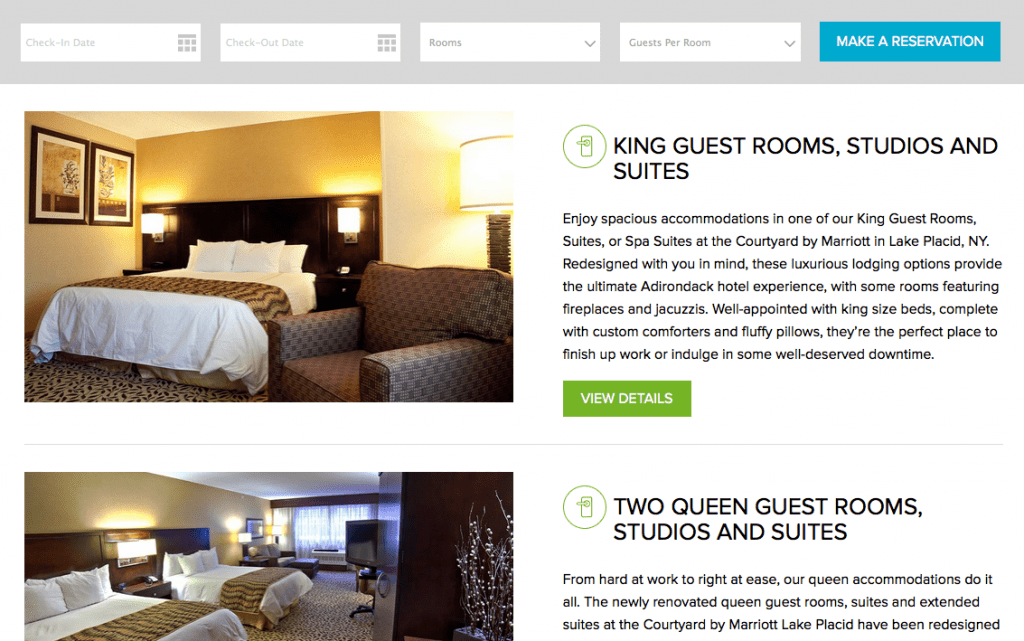 Layouts can have a major impact on retaining travelers and converting lookers into bookers. If your website provides a user-friendly experience where travelers can easily interact with your content, click-through to different sections, and learn more about your rooms, amenities, and services, there's no doubt these factors will influence your conversions.
Of course, not all website design companies know when (or how) to create unique layouts for a new hotel website. If they don't plan on creating additional layouts to give your content the attention it deserves then you'll probably pay less for your new website (you get what you pay for, right?). But please be advised that the lower cost option will probably come at the expense to travelers who are (or aren't) landing on your website.
Easily Updatable Website: Can You Make Changes to Your Own Website?
Your rates change, your rooms get a renovation, or your resort adds a special new feature. All of a sudden it's time to share these updates on your website.
But can you make these changes to your website on your own, or are you forced to call your webmaster for such edits?
As a busy hotel owner or marketer you deserve a website that's easy for you update. Fortunately, there are some great Content Management Systems available which allow website owners to make such changes to their website without having to dive into the code.
At Mannix Marketing we create easy-to-use hotel websites on the user-friendly Content Management System called WordPress. Not only will you get a private website training session where we show you how to use your new website, but we'll also set up your new website in such a way that lets you quickly and easily make changes to the content on your pages, add new photos and videos, and even manage guest reviews that come in through your website.
Guest Reviews: Are You Providing Social Proof?
Online reviews play a major role in influencing travelers' booking decisions. Of the many online review sites for hotels to collect and share guest reviews, one of the most helpful places for featuring guest reviews is your resort's website.
A built-in guest review system can make it easy for you to collect and display guest reviews directly on your own site. When guests submit their reviews through your website their submissions are held for moderation until you've approved them to be displayed. A guest review system helps provide "social proof" that tells travelers what your guests thought of your property, as shown in the example below on the Trout House Resort website (client):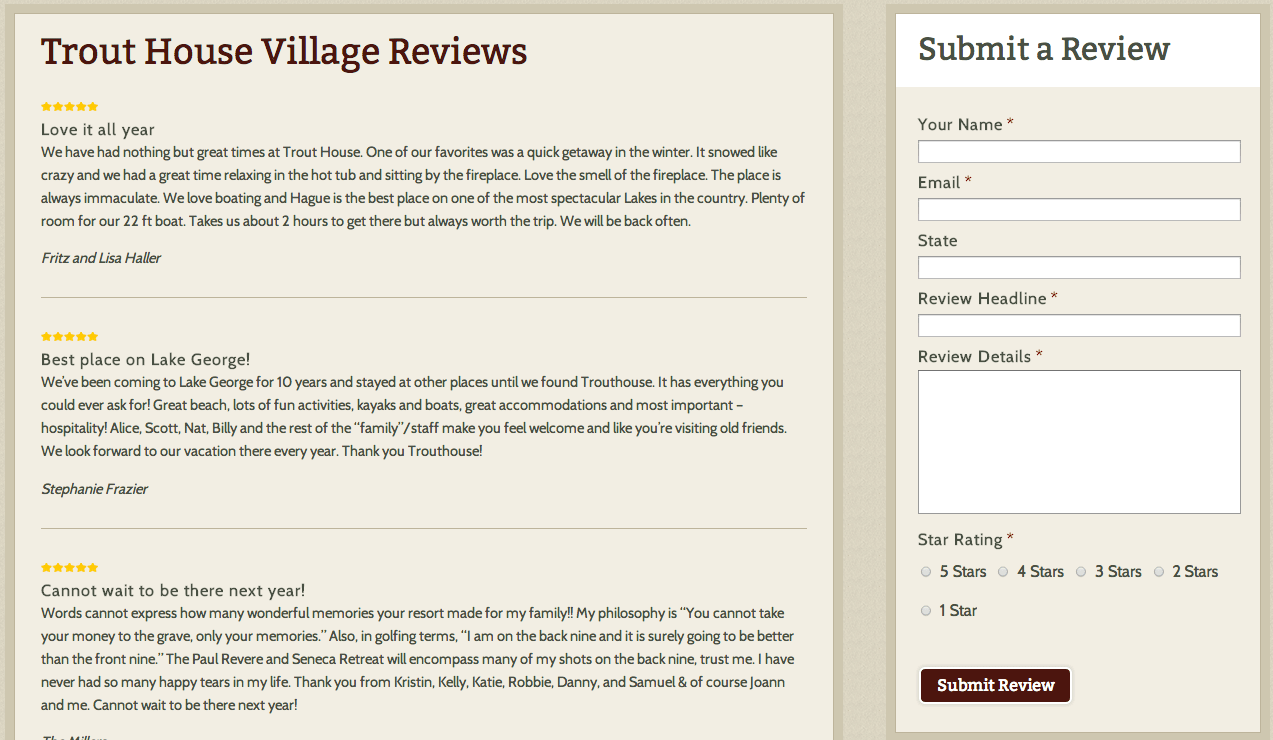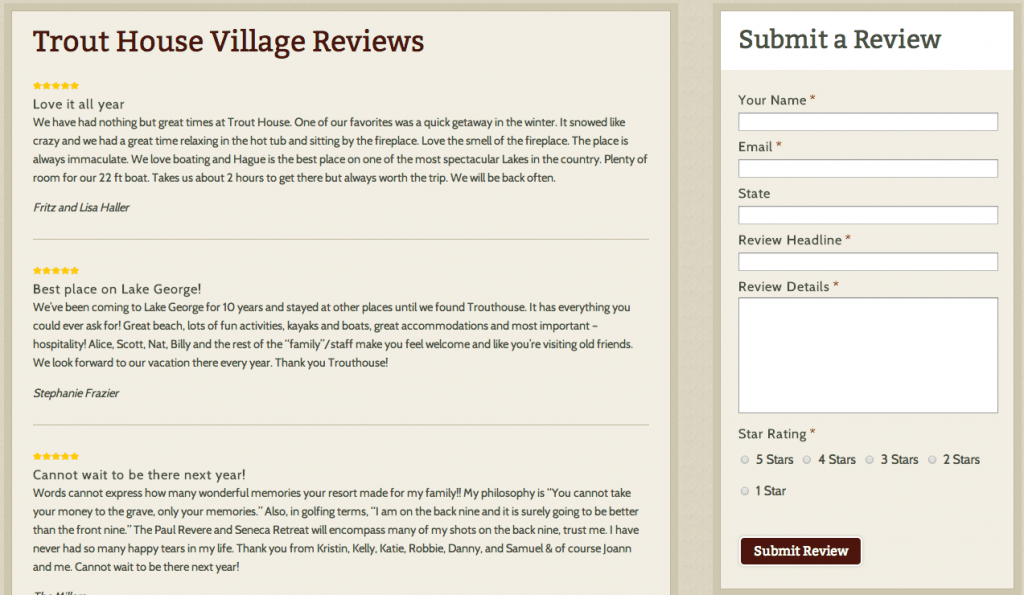 Okay, So How Much Does a New Website Design Cost for Hotels?
Depending on a company's specific needs, the typical cost for a custom designed, responsive (mobile-optimized), easy-to-use, search engine-friendly hotel website starts around $7,000. Again, because the exact cost will depend on your hotel's specific needs (including, but not limited to: website size, complexity, customizations, etc.), your specific website design and development cost will vary.
The cost of website design and development is a one-time fee; we also host your website and perform routine security updates to WordPress and WordPress plugins (which is a separate annual fee).
Considering a New Website Design for Your Hotel or Resort?
The best way to determine what your hotel needs in a new website and how much it will cost is to meet with a digital marketing agency who knows the hotel, lodging and travel industry. If you're considering a new website for your hotel or resort then we would love to start the conversation during a free website design assessment.