A Google My Business local listing can help you reach today's consumers and help improve your local search result rankings and presence. Some companies may be at risk of losing the verification on their Google Local listing, according to a recent announcement from Google, and may have to go through the verification process all over again if they don't take action. In this post, I'll discuss Google's announcement and provide some insight into how it could affect your Google My Business listing and your local search presence.
Earlier this month, Jade Wang (a representative from Google) stated in a Google Product forum post that businesses who haven't logged into their Google My Business account recently run the risk of having their listings unverified by Google. In other words, the "set-it-and-forget-it" strategy often used when managing Google My Business accounts after they have been verified is not viable. If Google determines an account is inactive, they could unverify any Google Local listings under that account.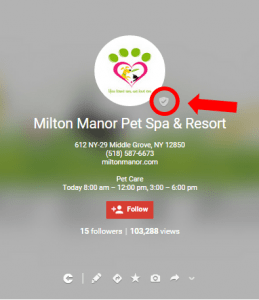 To understand why Google is implementing this strategy, let's look at a key statement in Wang's post: "We're doing this in order to continue to provide users with the best experience when they're looking for local businesses like yours." This is one of the first steps Google has taken recently to police active versus inactive or neglected Google My Business listings. The information provided by Wang in her post indicates that Google is attempting to remain vigilant about delivering quality Local search results to its users.
If you're a local business, getting found in local search results when people are searching for the goods or services you provide is critical. People are increasingly going online with their smartphones to find local businesses. Today's consumers have a world of information at their fingertips, and they expect immediate, relevant results. According to Google, 50% of consumers who conduct a local search on their smartphone visit a store within a day, and 18% of those searches lead to a purchase within a day. Search interest for terms like "near me," "closest," and "nearby" are becoming more popular, as the use of "near me" has increased 34X since 2011 and nearly doubled since last year alone.
Prevent Google From Unverifying Your Google My Business Listing
In her post, Wang provides some information about how the de-verification process works. Specifically, Google will attempt to contact Google My Business users via email to confirm that they are still actively managing a business page. If users don't respond to Google's email and haven't logged in to their Google My Business for a "significant length of time," Google may un-verify the Google Local pages under the account.
So how can you prevent this from happening to your account? Wang recommends that you keep an eye on the inbox associated with your Google My Business Account (Locations) for any emails from Google. Additionally, if you can't remember the last time you logged into your Google My Business account, you should log in to your account and take some time to review your business information: review for accurate, up-to-date information and apply any necessary changes if you notice the information is incorrect. In any event, it's recommended that business owners regularly log-in to their Google My Business (Locations) account to confirm all business information is accurate, as this information is part of your citations and can affect your SEO. Accessing your account will indicate to Google that the Google My Business dashboard is still being managed.
If you log into your Google My Business account and notice that a page in your account has been unverified, you can contact Google support for assistance with restoring verification.
Next Steps
If you need help optimizing your Google Google My Business account and getting found in the search engines, contact our Digital Marketing Strategists today!