Mannix Marketing took home the 2019 US Search Awards for the competitive "Best Use of Content Marketing" category for Senior Digital Marketing Strategist Lisa Bishop's diligent work on Adirondack Mountain Land's content marketing campaign.
"We are so proud and excited to receive a US Search Award for our work with Adirondack Mountain Land," said Jennifer Manz, Director of Digital Marketing for Mannix Marketing. "We are grateful for the opportunity to work with an amazing client who trusts us to use our expertise to work on improving leads and sales for him. The combination of Search Engine Optimization, Google Paid Search, and Facebook Ads worked together seamlessly resulting in resounding success for his business."
Mannix Marketing Inc. & Adirondack Mt Land- Award- Winning SEO Campaign
Mannix began working with Adirondack Mt land in 2016 and redesigned their website in 2017 with the goal to increase qualified leads for owner Mike Black's many Adirondack properties. Since the beginning, Bishop has been working on Adirondack Mt Land's digital marketing campaign focused on increasing organic search traffic from individuals who are interested in purchasing land in the Adirondack Mountains. Over the years, Bishop has added several new sections to the website to target additional keywords, started blogging regularly on relevant topics, and connected separate contact forms to each individual listing.
"Behind every website is an owner, a human being," says lead strategist Lisa Bishop. "Mike Black is the owner behind the Adirondack Mountain Land website and he has put his trust in Mannix Marketing, allowing us to attempt to bring his business to the next level. We were successful because Mike was a participating partner."
In addition to an organic SEO campaign, Facebook Ads and PPC Campaign were completed by digital marketing strategist Alexis Connor. The Facebook ads drive traffic to individual property listings and the paid search campaigns target and remarket people in NY and VT searching for relevant properties. Both of these campaigns bring additional traffic into the site and have greatly increased the number of contact form completions.
You can learn more about our work with Adirondack Mt Land by reading our case study or viewing the website design in our portfolio.
Fourth Win for Mannix at the US Search Awards
The win marks continued success at the awards for Mannix Marketing, which has earned several shortlists and three US Search Awards in the past. Most recently, in 2017, Mannix Marketing was the winner of the "Best Use of Search- Retail" category for our organic SEO campaign with Gettysburg Flag Works. And in 2018, Mannix Marketing was shortlisted for the "Best Use of Content Marketing" for our work with American Heating Company.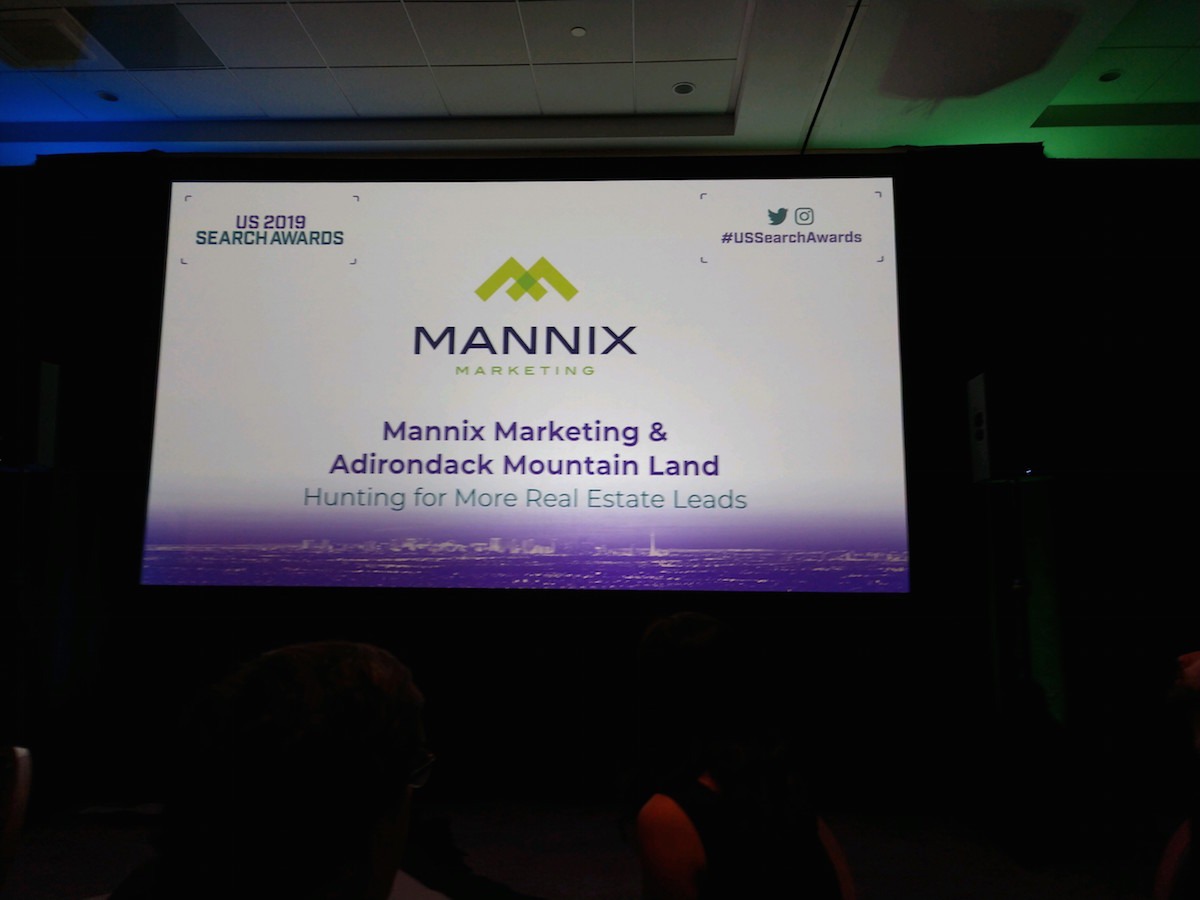 The US Search Awards celebrates and rewards excellence in interactive marketing campaigns, agencies, and in-house teams. The awards are exceptionally competitive, attracting hundreds of entries from the leading search and digital agencies from across North America (and to those based elsewhere around the globe who are delivering work for the US market) for the award's 34 entry categories.
This judging this year was a rigorous transparent two-step process including pre-scoring to determine shortlists, and a judging session where each entry was discussed in detail by an esteemed panel of industry leaders and experts and evaluated in detail to decide the winning entries.
Looking for an award-winning SEO company to take your marketing to the next level? Learn more about our SEO services and contact us today to find the best program for your business.